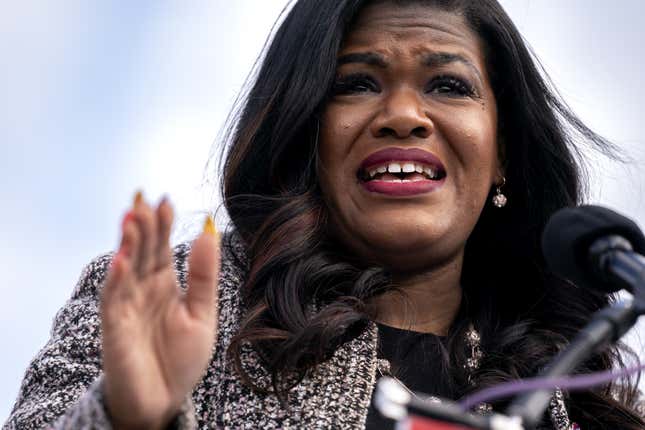 Congressman Cori Bush (D-MO.) isn't known for pulling punches. And on Thursday, she let her Republican colleagues have it. "Your bills are racist," shouted Bush as Rep. Steve Scalise (R-La.) chastised Democrats for not voting for Republican-led spending bills.
How Atlanta Produced A Cheesesteaks Empire With A Little Help From A Vegan & Rapper Eve | Securing the Bag
Bush doubled down on Twitter, posting a video of the exchange, along with the caption, "I said what I said."
The tense moment highlights the chaos to come as the House, Senate, and White House battle it out over government spending. Congress has till the end of the year to pass an appropriations package or an automatic 1 percent cut will be applied to all discretionary spending, including defense spending.

But that doesn't mean Democrats in the House will roll over and vote for Republican's agenda. On Thursday, the House GOP passed their first spending package, allocating funding for military construction and the Department of Veterans Affairs. However, the bill passed entirely along party lines, with every single Democrat in the House voting against the measure.
The fight isn't just about spending priorities. Republicans are also attempting to slip in measures that would restrict access to abortion, diversity and inclusion programs, and other issues impacting marginalized groups.
Even amongst Republicans, there's been division over some of the measures being proposed in these spending packages. Leadership had to pull an agriculture and Food and Drug Administration appropriations bill from the floor this week over concerns that it went too far. Moderates reportedly raised concerns over a provision that would nullify a Biden administration rule allowing mifepristone (a drug used in abortion and miscarriage care) to be sold in retail pharmacies and by mail with a prescription.
The intra-party fighting, as well as the clash between Democrats and Republicans, is sure to make for an eventful (and terrifying) next several months on the Hill.