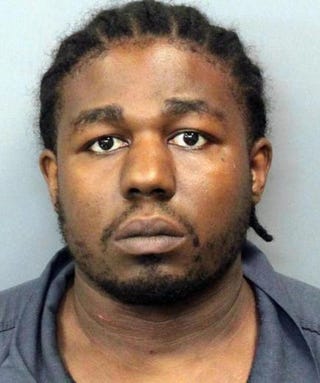 A Georgia man has been charged with fatally shooting his girlfriend in front of her sister this week in Marietta, Ga., during a domestic dispute, according to the New York Daily News.
David Junior Reid, of Marietta, allegedly used a 9 mm handgun to shoot Latasha Bell in the chest on Wednesday in the apartment they shared on Franklin Road, according to the Atlanta Journal-Constitution.
"With gun raised, [the] accused said, 'You're going to die,' 'I'm going to kill you,' and 'I'm about to take your life,'" reads an arrest warrant obtained by the Journal-Constitution.
Reid was reportedly still in the apartment when the police arrived and was immediately arrested and charged with murder, aggravated assault, possession of a firearm during the commission of a crime and marijuana possession, and is being held without bond, according to the Georgia paper.
A friend of Bell's told Channel 2 Action News that the couple had been having problems in their relationship but that Bell thought she could handle the situation.
"It has hit me real hard because I've known her for so long, and just to see her gone now, it hurts real bad," Cynthia Reed told the TV news station, according to the Journal-Constitution.
Read more at the New York Daily News and the Atlanta Journal-Constitution.