I'd like to dedicate this record
Right here to my main man
Johnny Cash, a real American gangsta…
Grand Ole Opry, here we come
—Snoop Dogg, "My Medicine"
There's long been an assumption that black folks and country music just don't mix—even though that assumption completely erases from history the music and success of Charley Pride, Ray Charles and even the Pointer Sisters: To many blacks, country music is seen as synonymous with rednecks and white supremacists, its incongruity with pigmented people, relegating it to little more than a bad punch line in pop culture. (Cue Samuel Jackson and Bernie Mac stranded at a country juke joint in Soul Men! Two brothers singing country and dancing the two-step! Hilarity ensues.)
For far too long if you loved country, and you had, what Pride called a "pigmentation situation," chances are, you kept that love on the down low.
Now, it seems, it may finally be OK to come out of the closet.
Oprah recently dedicated an entire show to country music, declaring, "Country music is the real soul music!" Sitting next to her was Darius Rucker, of Hootie and the Blowfish, who made history atop the country charts, the first African-American solo act to have a No. 1 country hit since Pride wrapped things up in 1983. (Ray Charles, performing with Willie Nelson, had a hit in 1984.)
In an interview with The Root, Rucker said country comes as naturally to him as any other kind of music. "Country music is just part of what I like," he said. "To me, it wasn't country or soul or rock. It was all just music to me."

And Rucker's got plenty of interesting company. The black country scene, it seems, is booming. These days, there's Pittsburgh-born Rissi Palmer, who, in "Country Girl," insists that country is "a state of mind, no matter where you're from." There's Cleve Francis, the guitar-playing cardiologist.
The Carolina Chocolate Drops, a black bluegrass band, does a mean cover of Blu Cantrell's "Hit 'Em Up Style," on banjos and fiddles. Then there's Cowboy Troy, dubbed "the world's only 6'5" rapping black cowboy":
People say it's impossible, not probable, too radical,
But I already been on the CMAs,
Hell, Tim McGraw said he liked the change,
That he likes the way my hick-hop sounds and the way the crowd screams when I stomp the ground,
G/O Media may get a commission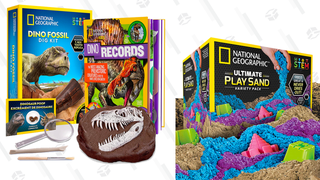 Up to 33% off
National Geographic Science and Activity Kits
Now, big and black, clickty clack and I make the train jump the track like that
Even hip-hop acts like Lil Wayne and Snoop Dogg are getting their country on. Snoop's "My Medicine" is about as far from "Gin and Juice" as you can get. And last fall, Lil Wayne joined Kid Rock onstage at the Country Music Awards, performing "All Summer Long." Sadly, Weezy's performance wasn't a true marriage of urban and country—he remained silent and rhymeless, strumming on a guitar while Kid Rock worked the room.
For all the burst of activity, Rucker has been the breakout success. His CD, Learn to Live, reached No. 1 and has remained on the charts for 30 weeks. The disc's first two singles, "Don't Think I Don't Think About It" and "It Won't Be Like This For Long," each sailed to No. 1, making Rucker the first male artist to get two debut singles atop the Hot Country Songs chart since Clay Walker 15 years ago, according to Billboard.
But don't think I don't think about it
Don't think I don't have regrets
Don't think it don't get to me
Between the work and the hurt and the whiskey
Before black people made it to the cities in the Great Migration, African Americans were country people, and we were making music. So where do you draw the line between the blues and country? Listen to Night Train to Nashville, a compilation of Nashville R&B between 1945-70, and you'd be hard pressed not to hear the country. And what is zydeco but Creole country music, rooted in the sweat-soaked bayous of southwestern Louisiana?
"This was not always a lily-white music," said Peter Cooper, senior music writer for the Tennessean. "This music was not the property of white people, initially… There are plenty of African Americans who have sung country music. There's never any doubt that the music is borderless. But the business has not been."
When Charley Pride first started singing country back in '66, he was dubbed "Country Charley Pride" so that there would be no mistaking that this black man was no soul singer. But Pride wasn't the first. Back in the earliest days of the Grand Ole Opry, one of its biggest stars was the harmonica-playing DeFord Bailey, the grandson of slaves, who stormed the country scene back in the '20s and '30s with what he called "black hillbilly" music.
In 1941, in what may have been a racially motivated move, Bailey ended up getting fired from the Opry over a licensing agreement with ASCAP. The Harmonica Wizard spent the rest of his life ostracized from music, earning a living cutting hair and shining shoes. He died in 1982, too soon to see himself honored in the Country Music Hall of Fame in 2005.
Cooper sees a correlation between the challenges to Jim Crow-style segregation and the corporatization of country music. "There was maybe a lockdown," Cooper says. "But it's hard to attribute it to one thing. Beyond the obvious, the South's history as a racially conflicted region, when you look at how corporate country works, it's very afraid to take chances. There was a time in country music when females weren't supposed to headline shows. Many record executives look for any reason to say no."
No doubt about it, Rucker's proven success and name recognition with Hootie and the Blowfish made his crossover less risky to country music executives. "If I was a new artist, trying to make a record, it would have been a lot harder," Rucker says.
So will Rucker's success and the growing appeal of acts like Rissi Palmer and the Carolina Chocolate Drops help black musicians—and music lovers—reclaim their country roots? Is there any chance that, say, Beyoncé, might discover her Creole roots, pick up the accordion and rock the zydeco like Rosie Ledet?
That may be a stretch.
But to black folks who think that country music is strictly a white affair, Rucker issues this challenge in his talk with The Root: "Just listen for one day. If you don't hear five or 10 songs that you like, then I'll accept that you think country music sucks. But until then, I say, 'You're babbling because you don't know.'"
Teresa Wiltz is The Root's senior culture writer.