Organizers of the Women's March on Washington, set for Saturday, Jan. 21, are gearing up for what they hope will be the largest mass mobilization ever on the first full day of a new presidential administration. It is set for one day after the swearing-in of President-elect Donald Trump.
"You can't ignore a grassroots group of people who have come in the hundreds of thousands," says march co-chairwoman Linda Sarsour, co-founder of MPowerChange, which she says is the first Muslim online platform. Sarsour, who is Palestinian American and Muslim, is a longtime racial-justice and civil rights activist who believes a mobilization of this magnitude is long overdue.
"As a Muslim, I have been fighting against so many things in the past 15 years; I want, for once, to have hundreds of thousands stand for something and not against something," Sarsour says.
The march began with a Facebook posting by Teresa Shook, a retired attorney in Hawaii. Once it was clear that Trump had won the presidential race, she asked in a post on Facebook: What if women marched on Washington, D.C., around Inauguration Day en masse? Shook asked friends for help, and started an event page for the march she envisioned. Within hours, 10,000 had answered the call. As of Jan. 6, more than 245,000 said they were interested and more than 170,000 said they would attend.
"I guess in my heart of hearts I wanted it to happen, but I didn't really think it would've ever gone viral," Shook told the Washington Post. "I don't even know how to go viral."
G/O Media may get a commission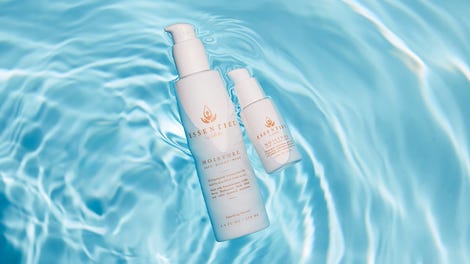 20% off
Essentiel by Adele
There was an initial kerfuffle over the lack of diversity among the initial group of white women contacted by Shook and over early plans to call the gathering the Million Women's March. That had been the name of a 1997 gathering of African-American women in Philadelphia, and there were questions and concerns raised by some women of color on Facebook. Rosie Campos, who had planned to co-organize the Pennsylvania chapter of the Women's March on Washington, stepped down and wrote a piece for Medium arguing that "white activism continues to be lazy activism" and that organizers were trying to quash the voices of those criticizing the march.
But march co-chairwoman Tamika Mallory, a national organizer of the 50th anniversary of the March on Washington and the youngest executive director of the National Action Network, downplays the drama. She is part of a now-diverse team of march leaders and says woman of color were involved within 56 hours of the original posting.
"[Teresa Shook] announced it to the people she knew … a network of white women," Mallory says. "But by Friday [after the election], an effort was made to make sure women of color were included. … I received a call along with [fellow march co-chairwoman] Carmen Perez … to meet with these women to talk about what the agenda should be and how to ensure that women of color were a part of this effort."
Perez, executive director of the nonprofit the Gathering for Justice (which was created by actor-activist Harry Belafonte), notes that organizers have been "very intentional" about the intersection of issues ranging from reproductive justice to criminal-justice reform, LGBTQIA, climate justice and immigration.
Although many planning to attend are doing so at least in part to send a message to Trump over his remarks about women, Muslims and Mexicans, organizers don't want to characterize this gathering as an "anti-Trump" march.
"We're not going to ignore the Trump factor. Clearly, that is an issue, and there are a lot of women and others organizing and going to this march because they want to ensure that they make a statement to President-elect Trump that we are not going to allow our rights to be rolled back," says Mallory. "We do not stand for fascism, sexism … all of the things we've seen happen and the things we have heard over this election cycle."
But Mallory adds that those involved in this march must be "more sophisticated in our advocacy" than to go to Washington only to address Donald Trump. In addition to dealing with the fact that roughly 53 percent of white women voted for Trump, she says demonstrators must also look at how Congress, the U.S. Supreme Court and even local governments are addressing their issues and ensuring that their rights are respected. Mallory says this march is an extension of a network that has long worked for racial-justice issues and against economic inequalities, and that there is a threat now not only to society at large but also for marginalized and disadvantaged communities.
"There's urgency right now and an energy we need to harness," adds co-chair Perez, "but it really is beyond Jan. 21. We're hoping to not only inspire women and their families but to ignite a spark to go back into their communities and organize."
Some critics have worried that the diversity of messages at the march will dilute the power of its message, but organizers don't believe that will be the case.
"There is no one answer to what a movement looks like," Mallory says. "There are moments we have to be very streamlined and focused on one particular goal, and there are times we have to deal with a broader, more diverse agenda. … This is one of those times."
The Women's March on Washington is set to begin with a rally at 10 a.m., at the corner of Third Street and Independence Avenue Southwest in Washington near the U.S. Capitol. Perez says that after the rally, with speakers and performers that run until 1 p.m., there will be a march with an as-yet-undisclosed route for security reasons—though there are no current threats against the gathering.
Belafonte and feminist Gloria Steinem are honorary co-chairs, and actress America Ferrera will chair the Artists' Committee for the march. Partner organizations range from Planned Parenthood to Amnesty International. Organizers say there are more than 150 solidarity marches planned in all 50 states and in 20 nations.
"The message will be very clear and quite scary: that progressives are uniting," Sarsour explains. "What you will see is a message of unity—declaring that from now on, we will work, and win, together."
Allison Keyes is an award-winning correspondent, host and author. She can be heard on CBS Radio News, among other outlets. Keyes, a former national desk reporter for NPR, has written extensively on race, culture, politics and the arts. Follow her on Twitter.