A woman filed a lawsuit against Chris Brown Wednesday for sexual battery and gender violence, alleging that the singer trapped her in the bedroom of his Los Angeles home in an encounter where she was repeatedly raped by one of Brown's friends.
According to the New York Times, high-profile women's-rights lawyer Gloria Allred, who recently represented Andrea Constand in her criminal case against Bill Cosby, filed the suit on behalf of her client, who is referred to as "Jane Doe" in court documents to protect her privacy.
At a news conference Wednesday, Allred called it "one of the most horrific cases involving alleged sexual assaults that I have ever seen."
The suit, which names over 50 defendants, says that Brown orchestrated the woman's sexual assault in February 2017 when he had a couch pushed in front of the bedroom door to prevent people from leaving. As the New York Daily News reports, the suit alleges that Brown began playing deafening music and pornography "to create a hyper-sexualized environment in the sealed bedroom."

Allred said that Brown handed "each female guest a clear pill filled with white powder and instructed them to take it to have a good time." Her client didn't take the pill given her, and had only gone to Brown's mansion to retrieve her cellphone, which had been confiscated at an earlier after-party.
G/O Media may get a commission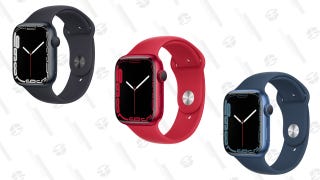 Up To $45 Off
Apple Watch Series 7
The suit details a series of violations that include sexual battery, gender violence, battery, assault and civil rights violations. For example, despite stating out loud that she wanted to leave and didn't want to have sex, the plaintiff says that she was "violently grabbed" by another woman and forced to perform oral sex on her and Lowell Grissom Jr., a musician and producer who goes by the stage name "Young Lo."
The plaintiff says that Grissom eventually removed the couch from the door but raped her twice in other parts of Brown's home.
Brown's lawyer, Mark Geragos, responded to the allegations to TMZ, calling the suit a "shakedown" and alleging that Allred had demanded $17 million from Brown before filing the suit—a claim that Allred denies.
"I never made a demand for any amount of compensation whatsoever, let alone a demand for $17 million," she said.
A Los Angeles Police Department spokesperson confirmed to the Times that it had an active investigation into the incident and that a case had been forwarded over to the L.A. County's District Attorney's Office to be evaluated.