A woman at a Reston, Va., Trader Joe's has gone viral after she was captured on video making horrid anti-Muslim and anti-Barack Obama remarks to a Muslim woman, who recorded part of the incident.
On Saturday, comedian Jeremy McLellan posted the video to Facebook, saying that his friend was the one on the receiving end of the awful remarks and who recorded the footage after a random act of kindness she performed went wrong.
According to the Facebook post, the friend, who wishes to remain anonymous, allowed the apparent offender to go in front of her in line because she seemed to be in a hurry, and that's pretty much when everything went to shit.
In the video, the woman can be seen accusing McLellan's friend of "playing dumb."
G/O Media may get a commission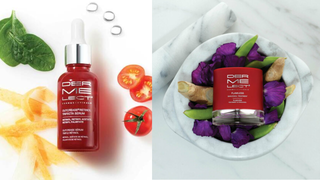 Save $19
Retinol Renewal Kit
"I shouldn't have let you in front of me," the woman filming responds.
"I wish they didn't let you in the country," the offender counters.
"Excuse me? I was born here," McLellan's friend says.
"Oh, you were?" the other woman responds in exactly the type of faux-shocked, irritating, condescending tone of voice you may be imagining right now.
"Obama's not in office anymore," the offender continues. "We don't have a Muslim in there anymore. He's gone, he's gone. He may be in jail, too."
"You look a little crazy," the woman filming says. "Maybe you need to get some help."
"Oh, I'm fine," the offender says.
"No, you're not," McLellan's friend pushes back. "Because you don't just strike up a conversation with people in line talking about stuff like that if you're normal."
"What set you off? Obama?" the woman retorts.
McLellan wrote in his Facebook post that the incident all started when the offender "started talking bad" about another Muslim woman in the store, who happened to be wearing a niqab. The woman asked McLellan's friend why she didn't cover up, too, to which the friend explained that it was a choice.
"The woman didn't believe her and started talking about FGM [female genital mutilation] and telling her 'I wish they didn't let you in the country,'" McLellan explained in his post. It was after that point that the friend started recording.
However, the still-unidentified offender is saying that it was McLellan's friend who started the confrontation, telling Fox 5 DC that the video was taken out of context and does not show what happened prior to the recording. The woman claims that before the recording, McLellan's friend started making "strong statements" about the U.S., saying it was full of murderers and rapists.
Right ...
Anyway, according to Fox 5, the woman is apparently now seeking legal representation, saying that she and her family have been receiving threats because of the video.
Read more at Fox 5 DC.