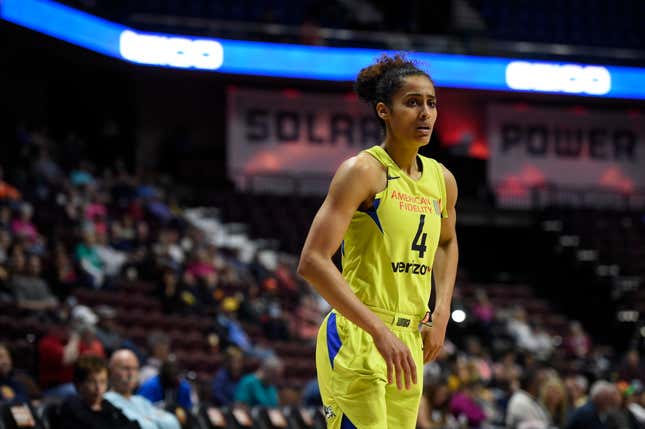 In a series of tweets on Saturday, Dallas Wings star Skylar Diggins-Smith disclosed frustration with the WNBA for a lack of institutional support as she dealt with postpartum depression following the birth of her son earlier this year. Diggins-Smith, who sat out the entirety of the 2019 season, also revealed she had played pregnant for the entirety of the 2018 season.
Tackling A Black Maternal Health Crisis & Embracing Reproductive Justice | The Root Institute
It's unclear what sparked Diggins-Smith's comments—whether she was responding to criticism from fans, the people from within the Wings organization or the WNBA. It began with a vague post— "having no support from [your] own organization is unfortunate," she wrote on Friday night. Diggins-Smith elaborated on that thought the next day.
"People called me a quitter, said I gave up on my team, etc., etc.," Diggins-Smith wrote, "Not knowing I took two FULL months away from everything because of postpartum depression. With limited resources to help me be successful mentally/physicality."
The lack of support came up again in a now-deleted message in which Diggins-Smith wrote, "the blasts that disrespect of mothers (and our rights) in the WNBA is incredible. I can't wait until you hear my story FROM ME!"
Diggins-Smith sat out the entirety of the Wings 2019 season, which began May 18 and ended Aug. 21. According to ESPN, the Wings paid Diggins-Smith her full salary while she was on pregnancy leave (the league's collective bargaining agreement states a team must pay at least half of it).
Wings team president and CEO Greg Bibb told ESPN the organization supports athletes "getting the care they need, whether that's physical or mental in nature," but declined to comment on the specifics of Diggins-Smith's case, citing concerns over privacy related to Diggins-Smith's mental health.
Postpartum depression affects 10 to 20 percent of new mothers. As the New York Times noted in a recent explainer, it's a separate condition from what's commonly referred to as the "baby blues"—which the article describes as "feelings of worry, unhappiness and fatigue that up to 80 percent of women experience in the first weeks after giving birth."
Postpartum depression can last from a few months to several years after childbirth; its symptoms include trouble sleeping, feeling overwhelmed, sad, angry, or disconnected from others.
In a 2018 ESPNW survey of 37 women athletes, 32 percent reported experiencing postpartum depression. One respondent said her self-confidence as an athlete dipped after giving birth; another said she "couldn't get a hold of myself" and decided to call a doctor to figure out if it was PPD.
The intense body changes motherhood brings on can be particularly intense for women athletes. The ESPNW survey found that 43 percent of the women surveyed returned to training in just 3 to 6 weeks. Several women remarked on the anxiety and challenges of returning to peak physical condition as they adjust to the reality of raising children.
Diggins-Smith, currently an unrestricted free agent, was a Notre Dame star who was selected third overall in the 2013 WNBA draft. She has yet to elaborate more on the situation between her and the Wings, retweeting supportive messages from fans after her posts gained traction.
Bibb emphasized his support for Diggins-Smith during an interview with the Dallas Morning News back in August, saying the team wouldn't pressure Diggins-Smith to change her timeline for returning.
"It's 100% up to Skylar," he said. "When she says she's ready to go, we're going to welcome her back. Until she's ready to go, she needs to focus on getting herself healthy and getting her family situated and feeling good about all of that."