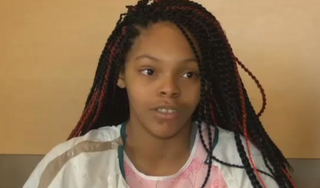 A Wisconsin teenager got the shock of her life when she went to use the bathroom Monday. Braeley Pettigrew, 17, thought she was having stomach issues when she went to the restroom, but instead she gave birth to a baby while sitting on the toilet.
Braeley told Fox 17 that she had no idea she was pregnant. And instead of telling her mother about the birth, she told her she found the baby boy on the doorstep. Once Braeley's mother called the cops, the officers noticed blood on Braeley.
"I never thought I would be having a baby at 17, but my first instinct was to get him out of the toilet and wrap him up to keep him warm," Braeley said.
Since Braeley admitted to her mother that the baby was hers, she won't face any charges. 
Read more at Fox 17.