Ever since the release of our favorite groundbreaking monster hit Black Panther, Tobagonian Winston Duke has accumulated a great following of fans for his portrayal of Jabari renegade M'Baku. He reprises his role as the Wakandan warrior in Avengers: Infinity War this week, so it is to be expected that the internet will have something to say. Duke, who has been labeled "Thick Daddy M'Baku" (otherwise known as "Thick Zaddy"), shared with The Root his sentiments on the newfound attention.
"I've thought about it a lot, and I have a lot of feelings about it. I just wanna say thank you to a lot of what is actually black women who have rallied around me and started and spurred all of this," Duke said. "For them to tell me I'm beautiful and for them to tell me I'm attractive and for them to show their affection this way is really great. And I'm humbled by it, to be honest with you."
Duke stays modest, saying that it's just part of Black Twitter having fun, where people want to outdo one another and get competitive with the comments or, quite often in this case, with the thirst. He gets a kick out of all the jokes but loves what they represent on a deeper level.

"I think at the heart of what it is, is something really positive. And what they're reacting to isn't even just Winston—it's all just manifested through this body, but they're reacting to seeing a personality type mixed with a body type that they don't get a lot of."

G/O Media may get a commission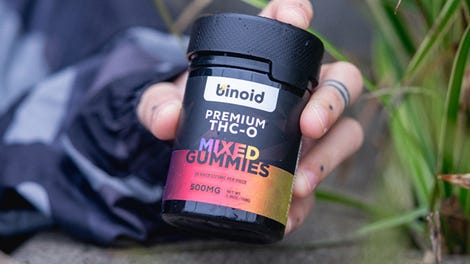 25% Off + Free Shipping
Binoid THC-O Gummies
Duke reflected on how, being 6 feet 5 and over 250 pounds, he doesn't exactly fit the Hollywood mold of a beautiful man, let alone a beautiful black man.
"That's not mainstream. And that doesn't sell. And I'm glad that they're saying that not only does it sell, it's sexy and it's fire. I wanna thank them for that. They're more in control of changing the paradigm of what they consume. And if they're clamoring for a Winston Duke, if they're clamoring for Anthony Mackie, they're clamoring for all these other variants of blackness in the media—cuz it's not blackness in society; you see this all day. We see this every day, but we don't see it on-screen. I wanna say thank you to them."
I'm sure his admirers will appreciate that! With M'Baku catching the attention of many, it was only right that he share what would catch his attention.

"I'm just a person who likes really good conversation. And that's how I know if I'm attracted to you. If a woman has a sound mind, then I'm all for it. If your politics are aligned with mine. If you see the world more in an inclusive way. I also like funny people," Duke confided.

Given that I'm a fan of the Jabari but don't exactly fit the body type at this moment, I needed some tips on how I would go about getting down with the mountain tribe.

"You gotta eat!" Duke exclaimed.
The Jabari are thick in appearance, but as we discovered in Black Panther, they sustain themselves on a vegetarian diet. Duke offered some more insight into what that diet looks like.
"The Jabaris eat up in the mountains. Jabaris cooking all the food up there. A lot of fufu and all kinds of things like that. Heavy carbs in the mountain. Keep me warm at night. It's about food. We eat a lot, work out a lot."

While I paid close attention to his advice, Duke gave mad love and respect to his female counterparts who make him proud to be part of the Jabari tribe.

"The Jabari women weren't these, like, stick figures. They were strong women, powerful, with thick arms and thick legs, and they were warriors. I feel like that really signified what type of community and culture you have up there in the mountains ... that everybody goes to battle. I didn't see that in all the other tribes. All the other tribes do have strong women, but the Jabari straight up had warrior women riding into battle. We're the hefty group, you know what I mean? It's a thick tribe up there," he said.

You can see Duke and his beautiful-bodied warriors fight alongside he Avengers in Avengers: Infinity War on April 27.

---
Kristian "Krit" Schmidt is a New Zealand-born Samoan living in the U.S. He's a real-life and scripted hustler and advocate for change. Follow him on Twitter.