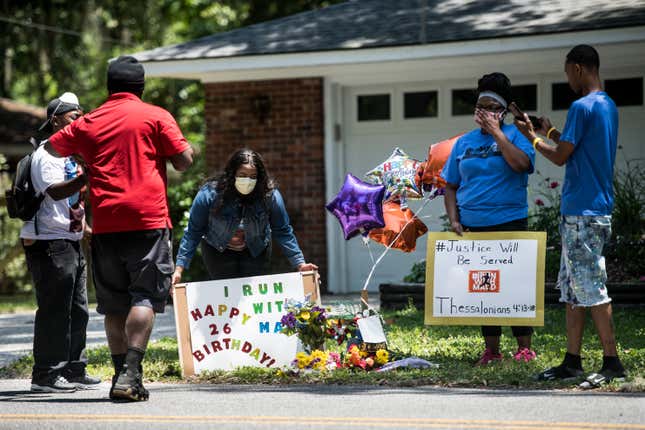 Earlier this month, graphic video depicting the shooting death of Ahmaud Arbery was publicly released. The video resulted in Gregory McMichael and Travis McMichael, the men who allegedly murdered him, to be arrested on murder charges. In recent weeks, calls have increased for William "Roddy" Bryan, the man who recorded the video, to be arrested as well.

On Thursday evening, Bryan was arrested on charges of felony murder and criminal attempt to commit false arrest, according to CNN. Bryan will be booked in Glynn County Jail, where Gregory McMichael and Travis McMichael are currently being held on charges of murder and aggravated assault. The Georgia Bureau of Investigation, the agency currently investigation Arbery's death, announced the arrest via press release.
Gregory McMichael told police that his son tried to cut Arbery off with his truck. "McMichael stated the unidentified male turned around and began running back the direction from which he came and 'Roddy' attempted to block him in which was unsuccessful," the police report said. Kevin Gough, Bryan's attorney, states that his client was simply a witness to the crime and not a participant. He told CNN that Bryan was working in his yard when he saw someone he didn't recognize being chased by one of his neighbors. Earlier this week, The Root reported that Gough sent a polygraph test to the GBI that he said proved Bryan was unarmed and had no contact with the McMichaels prior to the killing.
The family of Ahmaud Arbery expressed a desire for Bryan to be arrested. "We called for his arrest from the very beginning of this process," the family's attorneys S. Lee Merritt, Benjamin Crump, and L. Chris Stewart, said. The attorneys were relieved at the news of Bryan's arrest.
On February 23, Arbery was jogging through a neighborhood outside of Brunswick, Ga. when Travis and Gregory McMichael chased after and confronted him. Gregory McMichael believed Arbery was responsible for a string of break-ins in the area. Arbery was shot three times during the confrontation.