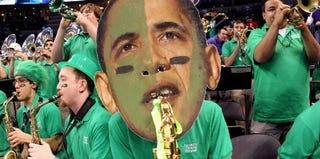 Last year President's Obama's men's March Madness bracket ranked 2,347,421 out of 6.45 million entries, placing him in the 63.6th percentile.
Not a bad number, but can he do any better this time around, in his fifth straight year sharing his picks with ESPN? He has picked Florida, Indiana, Louisville and Ohio State to reach the Final Four, the Associated Press reports. On the women's side, he selected Baylor, California, UConn and Notre Dame to advance to New Orleans.
ESPN will reveal his full men's and women's brackets Wednesday morning.
Easier than predicting the winners of the games is predicting the reaction of critics who will surely follow the announcement with dramatic hand-wringing over the time spent on this diversion instead of whichever issue is the subject of their current talking point. Nothing like annual traditions.
Read more at the Huffington Post.  
Like The Root on Facebook. Follow us on Twitter.