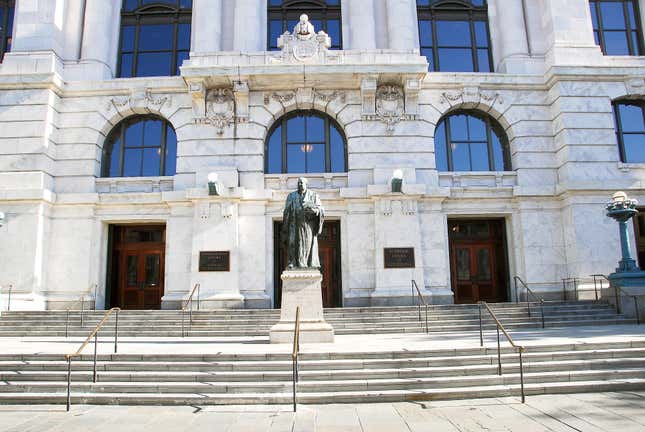 As Evangelisto Ramos walked out of the courthouse a free man, he was keenly aware that his acquittal was about far more than just him. In 2020, Ramos, a Black Honduran immigrant, saw his case go all of the way to the Supreme Court. And sorry if this is a spoiler alert: he won.
Cheat Sheet: What Does It Mean To Be Impeached?
In 2014, Ramos was convicted of second-degree murder in a 10-2 jury conviction, which, had he been in almost any other state (except Oregon), would have meant that he walked. But because Louisiana law allowed for non-unanimous jury convictions, he was sentenced to life. Ramos appealed all the way up to the Supreme Court, which in the landmark Ramos v. Louisiana, declared that non-unanimous jury convictions like Ramos for serious crimes were unconstitutional.
The court called their allowance a racist holdover from the Jim Crow era, arguing that states adopted non-unanimous jury decisions as a way to get around laws banning jury discrimination. Ramos won the right to a new trial at the Supreme Court and was unanimously acquitted of all charges by a new jury in March. But like we said, this is about a lot more than just one man.
The question now is whether the hundreds of other people locked up by non-unanimous juries will be granted a new trial.
The advocacy group, Promise of Justice, estimates that roughly 1,500 men and women who were convicted by non-unanimous juries and have exhausted their number of appeals are currently incarcerated. Both the Louisiana and U.S. Supreme Courts have ruled that the decision isn't retroactive, which leaves their fate in the hands of the state legislature. Unfortunately, for the people currently sitting in prison, the legislature doesn't appear likely to pass legislation on this anytime soon.
To understand why people are fighting so hard to ensure these some 1,500 Louisianans get a new trial, it's worth talking about why even the conservatives on the Supreme Court called non-unanimous juries racist in the first place.
Non-Unanimous Juries are a Jim Crow Era Hold Over
In his opinion, conservative Justice Neil Gorsuch denounced the usage of non-unanimous juries, arguing that they were a clear holdover from the Jim Crow era. Gorsuch explained that states like Louisiana and Oregon enacted laws making it so that juries didn't have to be unanimous to skirt laws banning discrimination against African-American jurors. That way, they could put one or two Black Americans on the jury while ensuring that the verdict would still be decided by the white jurors.
"In fact, no one before us contests any of this," wrote Gorsuch on behalf of the Supreme Court, "courts in both Louisiana and Oregon have frankly acknowledged that race was a motivating factor in the adoption of their States' respective nonunanimity rules."
The fight for new trials for people convicted under this Jim Crow era holdover won't be dying down anytime soon. But only time will tell if the legislature or the Supreme Court steps up to address the hundreds currently waiting in legal limbo.