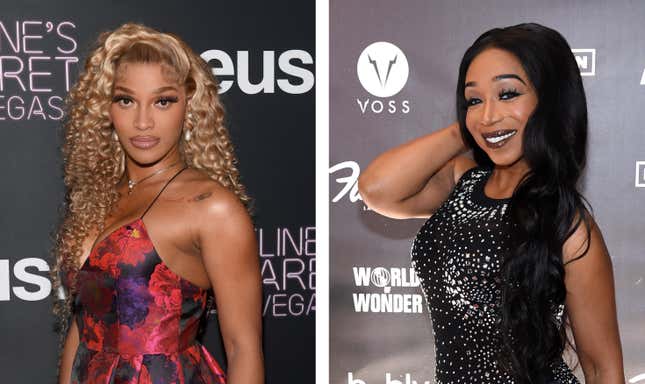 When I said BET needed to get back to basics, this isn't what I had in mind.

On Thursday, BET+ premiered Season 2 of College Hill: Celebrity Edition and it certainly got people talking. Like most reality shows, the word celebrity is used very loosely. The cast includes singers O'Ryan and Ray J; model/businesswoman Amber Rose; reality TV stars Joseline Hernandez and Tiffany "New York" Pollard; actress Parker McKenna Posey; former NBA player Iman Shumpert; and social media influencer Kwaylon "BlameItOnKway" Rogers. This time around, the new students are attending HBCU Alabama State University as they try to recapture the college experience they missed out on.
A Black Lady Sketch Show Is Our Black TV Pick of the Week
Here's the thing: The original College Hill was genuinely about students trying to make their way through college and figure out their future. Yes, there were wild shenanigans, because that's what college kids do. But, underneath all that, there was a heart to it. College Hill: Celebrity Edition Season 2 may find some of those special moments, but based on the first episode, it looks like another generic reality show.
The premiere episode—titled "Welcome to the College Hill Family"—features the usual reality TV tropes. The cast enters the palatial home one at a time for introductions; they pick roommates; they marvel at the amazing ASU campus; then a huge fight breaks out. In accordance with reality TV rules, the fight is over a minor miscommunication that is completely blown out of proportion. In this case, New York and Joseline—who are usually the stars of any show they're on—are clearly battling for control of the house.
It starts with Tiffany telling Joseline that she's grieving the death of "her daughter." However, in New York's case, this means she's grieving the loss of her beloved pet dog. Joseline is angry because she feels like Pollard made her look foolish and doesn't understand why she's so upset. From there, things spiral into a screaming match, which leads to Joseline basically locking Parker out of their room and the Love & Hip Hop star losing her cool during a house meeting.
If you've ever seen a reality show, you've seen all this play out several times before. The whole scene was straight out of the reality TV playbook—something New York helped write. Of course, just because it was familiar, it didn't stop the internet from commenting on all the nonsense.
College Hill: Celebrity Edition debuts new episodes every Thursday on BET+. The Season 2 premiere is currently available for free on the streaming network's YouTube page.