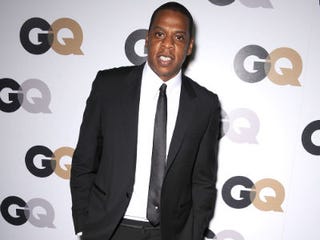 Right after everyone finished discussing Jay-Z and Beyoncé's new daughter's name, the conversation turned to her looks. Commenters have concluded in tones that range from joking to truly mean-spirited that if the little one takes after her dad, she won't be cute.
Is it just that it would be unfortunate for any baby girl to turn out looking like a grown man (specifically, one whose music outshines his looks, in a way many would argue has nothing to do with race)? After all, Beyoncé, though lighter, is also black, and nobody seems to be bringing her beauty into question. Even the harshest comments target only her weave.
In a piece for ColorLines today, Akiba Solomon argues that the discussion about Baby Blue Ivy's looks isn't that simple. Her analysis warns that it reveals stubborn beliefs about black beauty that should be troubling to us all:
… I've avoided most things Blue Ivy Carter. I knew if indulged in even a smidgen more about this little girl, I'd find myself walking among stunted souls who traffic in the idea that the full lips, large eyes, broad nose and dark brown skin of a Jay-Z is inherently ugly. 
But then, in a reckless act of masochism, I did it anyway. Here's a sampling of the stomach-tightening invective I've read online:
"hopefully she gets most of her looks from her mother's side."
"thats gonna be one ugly nigga baby with big ass lips and a dirty ass weave."
"i just hope beyonce genetics dont get over powered by camel genes."
"I had a dog named Blue! Poor kid — all of the talent and money in the world won't do her much good if she looks like Jay-Z."
"I had no idea that that 'adorable' and 'Jay Z's nose, eyes and lips' could have been used in the same sentence. I wish them the best of luck though!! <3 <3"
"i NEED pictures cause that baby don't sound "adorable" She got all the ugly traits of Jay-Z..not to be mean or rude & talk about a kid or nun but that baby sound ugly."
There's a rumor going around today that Jay-Z has pledged to drop the word "b—ch" from his music, in honor of his daughter. If she does end up looking more like him than Beyoncé, can we expect him to stop celebrating the "wavy light-skinned girls," too?
Read more at ColorLines.
Like The Root on Facebook. Follow us on Twitter.