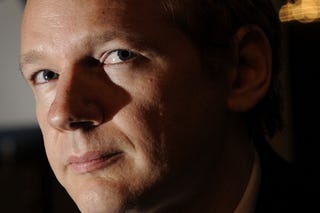 It appears that the walls are crashing down around WikiLeaks founder Julian Assange. The Associated Press is reporting that Assange surrendered to London police Tuesday to face a Swedish arrest warrant, the latest blow to an organization that faces legal, financial and technological challenges after releasing hundreds of secret U.S. diplomatic cables. Assange was at Westminster Magistrate's Court on Tuesday afternoon, waiting to attend a hearing. His Swedish lawyer told the AP his client would challenge any extradition from Britain to Sweden. In case you've literally been under a rock, there was an arrest warrant issued for Assange related to two separate rape charges, not the leaking of documents. Assange refused to cooperate with Swedish authorities, who in turn issued an arrest warrant for him. Assange had threatened to release more confidential documents if he was arrested. Let's see if he follows through on his threat.
In other WikiLeaks news, Visa has suspended all payments to WikiLeaks pending an investigation of the organization's business. They don't do that before partnering with businesses? Even millionaires and billionaires need background checks.
Read more at Yahoo News.