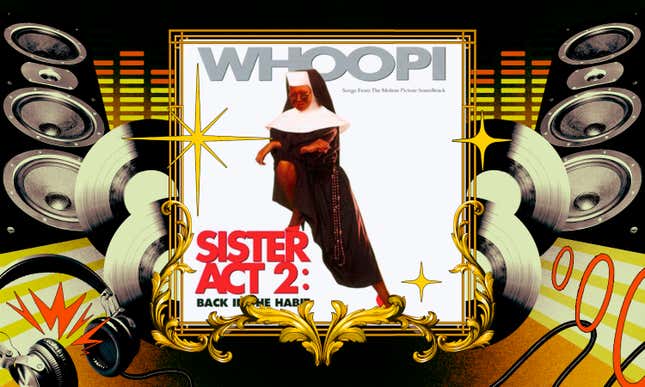 This week at VSB, we're running a series called Albums That Changed My Life in which different writers let you in on the music that helped shape and mold them into the people they are now. Today we hear from Alex Hardy as he explains how Whoopi 'nem affected his life with the Sister Act 2: Back in the Habit soundtrack.
This Juneteenth We Revisit The Anderson .Paak BLM Track "Lockdown"
Picture it: December of 1993 in Hampton, Va. I, young Alex, am sugared up on birthday cake, sitting beside my dad in the movie theater in the decaying New Market Shopping Center. There is orange soda and there is popcorn and I have just turned 9. We're watching Whoopi Goldberg save the world again as Las Vegas lounge singer Deloris Van Cartier, aka Sister Mary Clarence, and I am fighting to contain my excitement over the clothes and dancing and becoming gayer by the second.
After those 107 jam-packed minutes of feel-good, diversely cast, hopey-changey goodness, I had it all figured out. Not only did I become a lifelong Kathy Najimy fan, but I needed to form or join a hippity-hop choir of rambunctious-but-talented kids that slays all other choirs—hippity-hop ones or otherwise—with impressive choral harmonies; state-of-the-art, phat choreography; and an enviable, unattainable, effortless cool that would fix sour hearts, win trophies and bring glory, riches and more orange soda to our community. And for a moment, I wanted to be Rita Louise Watson.
As with the suffocating jealousy that consumed me when I watched those lucky rat bastards on Wild & Crazy Kids tear the mall up, I felt cheated that I wasn't asked to be a classroom kid and brought in to do inspirational doo-wop bops with Lauryn Hill, Tanya Blount, Jennifer Love Hewitt, Ryan Toby (the one without the breasts or the S-curl in City High) and the gang. I could have helped Maria learn "Mary Had a Little Lamb" or master some dance steps. Never mind the age difference. I could have been the one kid who appreciated the nuns' performance of "Ball of Confusion." It might could have worked.
I wasn't alone in my obsession. When not building Lego kingdoms or having Super Nintendo tournaments, my neighborhood homies and I watched Sister Act 2 an unhealthy number of times, reciting the lines, learning the songs—this may have been the winter after I let my Seventh-day Adventist friends talk me into going with them to Vacation Bible School, where I learned "Trust in the Lord With All Your Heart" in sign language, so I was easily intrigued by and flirting with Jesus stuff in that era. But when we—well ... I—got hold of that soundtrack, it was the height of obnoxiousness for bystanders.
Since I knew every single one of these jazzed-up holy bops and R&B jammy jams, 100 percent of the choreography and 72.5 percent of the film's dialogue, my next step was obvious: Assemble the neighborhood kids and whomever my mom was babysitting at the time, drill the songs and choreography into them and perform in my backyard. Duh.
And so I did. The process was quite the educational endeavor for all involved. The soundtrack, released back when soundtracks were an event unto themselves, also teaches valuable life lessons, preaching the truth to the young black youth. On "Wandering Eyes," the lady oracles of Nuttin' Nyce sing a fable about a love-seeking woman who foolishly engages with a man with eyes for everyone but his current girl. In a shocking twist, by the third jazzy verse, the heroine has been Eniko Harted, and the other woman has now become the other woman. A shame.
During the opener, "The Greatest Medley Ever Told," Whoopi and the Ronelles tell the story of a woman who left her quiet, small town in a dress she found in search of prosperity in the big city, then turned to hustling and grueling sex work (in a blue dress) to support herself and cop a new freakum dress, only to be seduced by a bikini-brief-wearing postal worker, then by a flashy mobster who stole her clothes and threatened her with a shotgun when she found out he got her cousin pregnant and tried to kick him out, leading her to flee, finding solace, safety and sisterhood in the presence of God ... or the convent from the first film. Whichever. It's deep, chile.
Aretha even came through with a jumpin'-jumpin' house bop for you to put on your finest going-out clothes and and shake your shimmy in the name of self-inspiration, self-respect and pride. My sole complaint regarding "A Deeper Love" is that we never got the extended version, a 13-minute John Singleton-directed minimovie video with Aretha in a bedazzled girdle, a kente skort and some light-up British Knights, giving you a mean uprock and a viscous dance break (by Fatima Robinson) alongside 73 dancers going hard as a motherfucker in boxy-ass suits and some Stacy Adams shoes like MC Hammer and his platoon of aerodynamic-haired jukers used to do. The upside is that the song made this moment possible:
Blessings.
And then there is "Pay Attention," an uplifting sleeper by Valeria Andrews and Ryan Toby. It includes the line, "I ain't buyin' no more lyin', 'cause truth don't cost a thang," and even has a "nayhoo" before the 30-second mark. Iconic.
Puberty was a rough moment in time because my deepening voice meant the loss of the ability to successfully do Ryan's high note during "Oh Happy Day." Life is a ho sometimes. But for our epic backyard revue—us with that well-worn cassette in my dad's tape player atop a plastic chair, performing for the birds and the ancestors—your boy still had the juice.
And then there was "Joyful, Joyful," the livest choir performance I had seen in my nine years of blackness and limited churchy experiences. The first time I watched the Saint Francis Choir, wearing overalls and their hearts on their sleeves, get it popping for that trophy, I swelled up with pride as if I were onstage with them in my finest Perry Ellis ensemble, dancing all over the competition's dreams. There was even a Janet sample. Win upon win.

In that backyard, though, I played the part of Rita Louise Watson and half of the rappity-rap duo, led los homies through a rousing performance and then stepped into the role of Sister Mary Clarence, turned and commanded my castmates to bow as she did in the film. And then we went and played kickball. You should have been there.
Later on in eighth grade, as my inner homo-thug blossomed, my friend Tiffany and I would watch Sister Act 2 together via house phone, pausing and playing our VCRs so we could be at the exact-same part. That's probably why watching "Joyful, Joyful" or two-stepping to Hi-Five's regret-filled "Never Should Have Let You Go" moisturizes my spirit a little even in the ashiest of times. Shoutout to staying power of blackness.
I occasionally remind myself that if I ever run into Whoopi, while thanking her for her stellar work as Sister Mary Clarence, I must fight the urge to tell her that word on the street is that she's a Las Vegas showgirl so she can tell me, as she told dude from City High at the end of the film after a dramatic pause, that she is not now, nor has she ever been, a "Las Vegas showgirl," but that she is ... a headliner, and I can cry inside. No, I won't do that.