As a lover of the subgenre of R&B I describe as "Eff-that-ninja music," Keyshia Cole is a pioneer. Keyshia's entire catalog more or less keeps within this prism, but her first two albums are her strongest efforts. On her debut album, The Way It Is, Keyshia was basically that girl with Kool-Aid-red hair who would literally curse you out in song. In other words, a woman after my own heart.
On her sophomore offering, Just Like You, Keyshia had the same spirit, though she was noticeably a bit more polished—not unlike a ratchet (self included) who has toned it down after a loving black co-worker hits her on the side, like, "Sis, if you want a promotion, you've got to switch it up a little." Or, better yet, she wants to fast-track her career to be like Mary J. Blige after white people discovered her and the word "dancerie."
Unfortunately, after that, inconsistency took over. Her third album, A Different Me, was OK . Her fourth, Calling All Hearts, was not. The fifth, Woman to Woman, was not the best, but not the worst. No, no, her sixth, Point of No Return, has those bragging rights. After that 2014 release, Keyshia revealed that she had gone independent and she instantly became a punch line in select online social circles. I'm talking about you people who said she was selling fish plates outside the Grammys. I love fish plates, but that wasn't right, y'all.

Now Keyshia is back on a major label after signing with Epic Records and, seemingly, is due for a big comeback. What will certainly help in those efforts is her decision to join the cast of Love & Hip Hop: Hollywood. Keyshia shared the news via Twitter, and when asked what compelled her to join the show, she explained, "I want to touch bases with the essence of my fans again."
High-siddity people made light of this quote, but it's honestly one of the most self-aware things I've heard an artist say about the climate and her fan base in a long time. At least she's not picking up a glow stick and making rave tunes like Usher did a couple of years ago. There are other blacks I could name, but I don't want to be jumped at a future NAACP Awards.

G/O Media may get a commission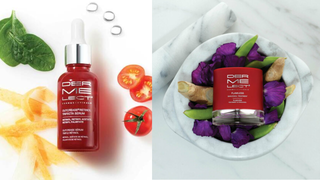 Save $19
Retinol Renewal Kit
I like Keyshia Cole most when she is singing about trifling men via songs with catchy hooks, and telling me all of her business courtesy of a reality show. Before K. Michelle used reality TV to resuscitate her fledgling career as a recording artist, there was Keyshia Cole, star of BET's Keyshia Cole: The Way It Is. By sharing the details of her life—including her drug-addict biological mother, her adopted mother and her strained relationships with her sisters—Keyshia was able to cultivate a fan base. She got people to care about her in ways that her old record label arguably never could have.

There are plenty of artists whose music I enjoy but couldn't give a decimeter of a damn about when they're out of the studio. Though I don't necessarily need to know a lot about an artist's personal life, in the case of Keyshia Cole, knowing what she's been through led me to develop an affinity for her that will, if nothing else, always leave me open to hearing her new music.
Now, I didn't like it when Keyshia Cole tried to come for Beyoncé about "Bow Down/I Been On," but I'm assuming she's made penance with Black Jesus.
Whatever the case, Keyshia is smart to realize that the Love & Hip Hop franchise is hugely popular and essentially another opportunity to get folks invested in her life and, by extension, her new music. Her second BET series, Keyshia Cole: All In, didn't do the trick, but I trust in Monami and Eastern, who produce LHH.
As for the Love & Hip Hop franchise itself, it's so good to know an artist that I have actually heard of has signed on. In the past, some have been Throwback Thursday or Flashback Friday or, at the bare minimum, someone on the rise. Ever so increasingly, though, it's been a lot of, "Where in the hell did you come from and why are you here?"

On a recent episode of Love & Hip Hop: Atlanta, quite a few viewers were left bored out of their mind, since we had to watch some woman claiming to be the CEO of a nail salon (insert laugh track here) beef with her assistant and marketing director (insert laugh track here) and some Asian girl from Instagram who thinks she's the next Cardi B, when she's likely to end up being a less poppin' Shekinah.
Although Keyshia will be doing Love & Hip Hop: Hollywood, that franchise could use a boost, too, 'cause making babies with a famous rapper or semifamous singer doesn't really live up to the show's description. Keyshia can easily pull a Remy Ma and use the show to bolster her name and reintroduce her to audiences while not catching a case as they let the lil B-C-D-E-F-G cast members play UFC fighter.

A reality show alone won't fix the problem.

Like, I don't love Keyshia Cole's new single, "You," featuring Remy Ma and French Montana, the Ashanti of hip-hop, but I remain hopeful about the new album because I can't imagine L.A. Reid, who signed Keyshia to Epic, will let her drop a brick. And thankfully, "the blacks" will actually know there is a new Keyshia Cole album available because soon she'll be on VH1 weekly.

Please make the most of these opportunities, Keyshia. I'm rooting for you. Hell, I need you. I'm still single and have teaspoons of a burgundy-red weave bun in my soul. We all need this new album to be good and successful.