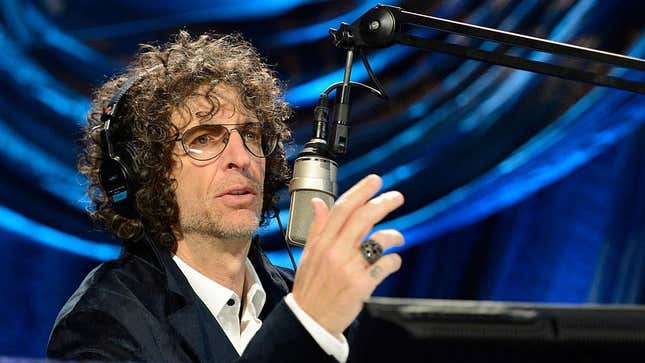 Veteran radio host Howard Stern always has something to complain about. Last year, it had to do with how seeing Oprah's wealth made him feel uncomfortable. Now, it has to do with him feeling left out by Black NBA players for not greeting him at games.
Cedric The Entertainer Talks The Neighborhood, Bombing Jokes, & Raps Jay-Z on That's So Random
Earlier this week, the host of The Howard Stern Show went on a weird rant about not being acknowledged by Black NBA players at Madison Square Garden, where the New York Knicks play.
While speaking with his co-host, Robin Quivers, Stern said, "The Knicks have been very kind to me. They put me right in the front row. That's when I knew I was famous. When I, you know, I have courtside, they put me courtside and the Black players won't come over and say hello to me, but they go over to Spike Lee."
In response, Quivers asked him, "They don't acknowledge you at all?"
Stern then answered, "No. I'll be sitting next to Tracy Morgan or Chris Rock. You know, they seat you where they seat you. And a lot of times when I'm there, I'm next to Tracy Morgan, who is so funny. And he's sitting there and like, couple of the players will come over. They like give him that bro shake and stuff. And I'm like — these guys should hug me too. I mean, what am I? I grew up in a Black neighborhood, you know what I mean? I mean they should know that. But I get ignored."
His co-host, who is Black, then asked if has to do with his race. Stern continued, "No, not that I saw. I want them to. I want them to talk to me. I want them to come up and go, 'Hey Howard, fan of the show or something.' I don't get that. And, you know who comes up to me sometimes — the referees. White guys and Black guys, they'll come up to me, White referees and Black. Like, 'Hey Howard, hey.' But yeah, a lot of the White referees. So I'm like, oh, is everything racial now? Can I get a shout-out from some of the players?"
Stern later admitted that "fame is important" to him and that he really enjoys it when people recognize him.
Why don't Black players come up to Howard Stern?
I hate to break it to you Howard, but it's not simply because Black players dislike you. Now, that doesn't mean that some Black players may dislike you because they definitely have reason to.
But, I think it has more to do with a cultural disconnect.
Howard Stern is a 69-year-old White guy who landed his first radio gig in 1976. Literally, nobody who's currently in the NBA was even born yet. It's not that they don't like you, it's that they don't know you.
In response, Stern might ask, "Then how do they know who Spike Lee and Tracy Morgan are?" They know them because they are culturally relevant to the Black community.
It's almost a Black right of passage for a young Black kid to watch a movie directed by Spike Lee. Plus, he's been the most recognizable Knicks fan for the past three decades. Every basketball fan knows who Spike Lee is!
Tracy Morgan has been in endless projects that are popular in the Black community including A Thin Line Between Love and Hate, Half Balked, First Sunday, Death at a Funeral and Coming 2 America.
Stern on the other hand has been sitting behind a radio mic for the past half century. I guarantee you that if he polls the demographic of his listeners, I doubt the percentage of Black men between the ages of 18-30 is going to be high.