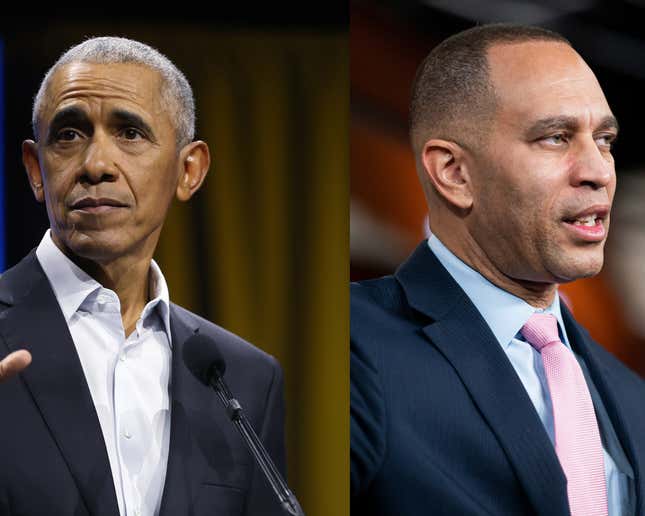 House Minority Leader Hakeem Jeffries (D-NY) burst on to the scene last week when he became the first Black politician to lead a party in Congress. Republicans may have finally elected a House Speaker, but Jeffries' unifying address clearly stole the show.
Oprah And Michelle Obama in The Light We Carry Is Our TV Pick This Week
Because he's a young Black politician with a gift for politics and speeches, everyone is rushing to compare him to President Barrack Obama.
The comparisons aren't exactly new. In 2012, the Washington Post posed the question, is "Hakeem Jeffries: Brooklyn's Barack Obama?" But now that the fresh face of the House Democrats is in the spotlight again, we thought it was worth trying to figure out what these two men share in common and, more importantly, what sets them apart. (No, we will not be including being Black, that's a little too on the nose).
1. Hakeem Jeffries Does Not Want to Be Called The "Next Obama"
This isn't really a similarity or difference, but it's worth mentioning that Jeffries already weighed in on the "next Obama" debate. "There is and will only ever be one Barack Obama, who was a phenomenal president," Jeffries told the New York Times Magazine in 2019.
2. They Share a Birthday!
This is sort of cheating because I took it from the same New York Times Magazine story as above, but Jeffries and Obama were both born on August 4th. It honestly makes a ton of sense that both of these charismatic politicians are Leos.
3. They Had Vastly Different Upbringings
Birthdays aside, the two men had pretty different childhoods. Obama was born in Honolulu, Hawaii, which is where he spent most of his childhood with his mother, Stanley Ann Dunham, a white researcher from Kansas.
Jeffries, on-the other hand, was born and raised in the Brooklyn neighborhood of Crown Heights (blocks from his future district). His mother, Laneda Jeffries was a social worker, and his father Marland Jeffries was a substance-abuse counselor.
4. They Both Went to Top Law Schools
It's no secret both Jeffries and Obama are talented legal minds. Obama graduated magna cum laude from Harvard Law School in 1991, and Jeffries graduated magna cum laude from NYU Law School in 1997. (For those who don't know, NYU is ranked as the 7th best law school in the country, according to U.S. News World Report). Both attorneys also served on their school's law review.
5. They Had Very Different Career Paths to Public Office
Their paths diverged when it came to picking their pre-politics career paths. Obama famously worked as a community organizer before law school. After law school, he worked as a civil rights attorney and then as a constitutional law professor at the University of Chicago.
Jeffries went the corporate route (no shade, some of my favorite people are corporate attorneys). After clerking in the Southern District of New York, Jeffries joined the white-shoe law firm: Paul, Weiss, Rifkind, Wharton & Garrison. Jeffries eventually left the firm to work at Viacom, where he served as an in-house litigator.
6. They Both Served In Their State Houses
Both politicians served three terms in their respective state houses. Obama served as an Illinois State Senator, and Jeffries served as a New York State Assemblymember.
7. They Had Really Different Constituencies In Congress.
They represented very different groups of people while serving in the U.S. Congress. Jeffries' current district runs through Brooklyn and a tiny bit of queens, it includes diverse African American and Caribbean American neighborhoods like Bedford-Stuyvestant and East New York. Jeffries doesn't shy away from talking about his district and his roots, even shouting out Bed-Stuy legend The Notorious B.I.G on the House floor during a speech.
Obama had a pretty different constituency in Congress. As a Senator, Obama represented Illinois, which (Chicago aside) is pretty white.
8. They're Both Party Loyalists
We simply don't have time to go through their entire voting history. (Sorry: I'm on deadline). But, Jeffries has more or less seemed to back the mainstream Democratic agenda on major issues like abortion rights, health care, pandemic relief, and infrastructure spending.
Obama, as leader of the party, by default represented the mainstream part of the Democratic party (which has become more progressive since he left office).
9. They Both Have a Complicated Relationship with The Left
Both politicians have tussled with the left-wing of the Democratic party. In a 2021 interview with the New York Times, Jeffries ripped into his left-leaning colleagues;
"The extreme left is obsessed with talking trash about mainstream Democrats on Twitter, when the majority of the electorate constitute mainstream Democrats at the polls," Mr. Jeffries said. "In the post-Trump era, the anti-establishment line of attack is lame — when President Biden and Democratic legislators are delivering millions of good-paying jobs, the fastest-growing economy in 40 years and a massive child tax cut."
Obama has had some similar rants. In a private 2019 dinner, Obama also tore into the left side of the aisle, according to reporting from Rolling Stone Magazine;
"Even as we push the envelope and we are bold in our vision, we also have to be rooted in reality and the fact that voters — including Democratic voters and certainly persuadable independents or even moderate Republicans — are not driven by the same views that are reflected on certain, you know, left-leaning Twitter feeds or the activist wing of our party." He added that "the average American doesn't think we have to completely tear down the system and remake it."
10. They are Both Powerful Speakers
No one can deny that both politicians are brilliant orators.
Who can forget Obama's speech at the Democratic National Convention in 2004? Jeffries' stirring speech after the Speaker voting (finally!) ended, reminded many people of the magic of watching Obama's show stopping performance.
At the end of the day, these are two brilliant Black men with an undeniable talent for politics and public speaking. But as fun as trying to find the next Obama is, it might be a better use of our time to watch the kind of leader Hakeem Jeffries shakes out to be.