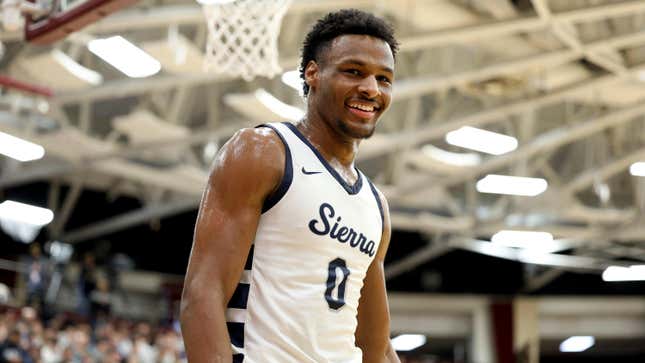 Despite the shocking nature of what happened to Bronny James on Monday, that didn't stop the vultures on the internet from speculating on what happened to him—and they had no problem being loud and disgustingly wrong. On Tuesday—just 30 minutes after the news was shared about James collapsing and suffering cardiac arrest during a practice at USC of Monday—Elon Musk wasted no time on sharing his unwarranted Covid conspiracy theory.
Elon Musk Has Opened the Floodgates For Racists On Twitter
He tweeted: "We cannot ascribe everything to the vaccine, but, by the same token, we cannot ascribe nothing. Myocarditis is a known side-effect. The only question is whether it is rare or common." Fox News host Martha McCallum echoed those same sentiments on her show Unanswered Questions. On Tuesday, McCallum inferred that James suffered "myocarditis" and it was "a side effect of the vaccine."
Fox host Laura Ingraham chimed in as well and not only defended Elon Musk but doubled down on spreading misinformation. "Well, today, Elon Musk was pilloried for suggesting that the COVID shot might have had something to do with what happened to Bronny," she stated during The Ingraham Angle. "Now, he may be completely wrong. It's speculation.
"But we do know that myocarditis is a side-effect of the vaccine and given everything the so-called experts got wrong during COVID, we shouldn't condemn anyone who is asking questions as these cases seem to be accelerating." However, this isn't innocent question-asking as Ingraham insisted.
Sadly, it's not only conservatives who have been peddling dangerous conspiracy theories. Longtime fans of James and his incredibly famous family—which includes a disturbing number of Black folks—have hopped on the bandwagon to agree with this outrageous claim or to push different theories pertaining to the health of male athletes.
The right is shamelessly using a teenager's scary health episode to push dangerous falsehoods onto the public. We saw these same lies being spread by conservatives at the onset of the pandemic in 2020, which only reiterates how ruthless they are when it comes to pushing their agenda. However, when it comes to the ideas and knowledge that's being believed within our own communities, it's up to us to properly vet the information.