After a 20 year dip in popularity and social capital — spearheaded by Nino Brown's now infamous shanking of Christopher Williams' delicate light-skinned hands in New Jack City — 2008 seemed poised to be the peak of the light-skinned Black man resurgence. Obama won the White House. Cory Booker and Deval Patrick seemed like heir apparents. Chris Brown hadn't gone full retard. And Drake was assuredly in Toronto somewhere doing some Drake-ass shit like ordering pancakes at the Cheesecake Factory or helping the roommate of a platonic friend move a futon.
But, 2008 proved to be a mere 12th floor stop on the light-skinned Black man's 2014 ascent to the penthouse, as this year has proved to be the best year for light-skinned Black men…ever. Don't believe me? Well, consider the following evidence:
Barack Obama: Still President of the United States. Still married to Michelle. Still somehow manages to hoop in the Nikes they sell at Macy's discount racks without his ankles exploding.
Eric Holder: Officially President Obama's anger translator. Quite possibly the scariest motherfucker alive.
Drake: Still doing Drake-ass shit. But has somehow inched his way into becoming the king of contemporary rap. (Yes, it's true. Stop trying to deny it. You'll feel better.)
G/O Media may get a commission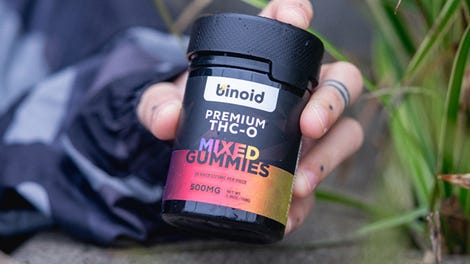 25% Off + Free Shipping
Binoid THC-O Gummies
Russell Wilson: Superbowl champion quarterback. Also shares a first and a last name with very popular athletic apparel companies, which means something.
Jesse Williams: Became the number one celebrity crush for the collective Bougie Black girl population with a series of pithy tweets and passionate diatribes against racism and police brutality.
Stephen Curry and Klay Thompson: Nicknamed the "Splash Brothers", the light-skinned Golden State Warrior duo form arguably the best shooting NBA backcourt ever. They both also had dads who played in the NBA, which means they've been wealthy their entire lives and it's perfectly fine to hate on them.
Jason Kidd: After a somewhat underwhelming first year as coach of the Brooklyn Nets, somehow managed to strongarm the Milwaukee Bucks into doubling his contract and giving him carte blanche within the organization. This despite the fact that he regularly shows up to games looking like, as @kgtrashtalk put it, .."he was at Ruth's Chris and was like "I gotta bounce and go coach this game real quick."
Panama Jackson: Just look at this light-skinned negro:
Blake Griffin: Became the first light-skinned man in history to become the NBA's most feared dunker.
Common: Has taken LL Cool J's spot as America's favorite "rapper who doesn't actually, like, rap anymore but still gets invites to speak and host shit because he's handsome and was in a movie with Queen Latifah."
J Cole: Has taken Talib Kweli's spot as America's favorite "conscious/activist rapper you name drop when you want to impress people who don't really listen to rap with your rap tastes." Basically, the rapper you let your parents know you listen to.
Keegan-Michael Key: While Kevin Hart may have been the most visible Black comedian this year, Key, with his ubiquitous Obama impression and viral substitute teacher bits, might have been second.
Jeremy Meeks: With one mugshot, somehow caused the entire population of Black women on the whole entire Earth to collectively ovulate. Don't be surprised if there are a shitload of babies born exactly nine months after his pic hit the internet.
Chris Brown: In a year where a stampede of White women invaded the R&B charts, Brown's "Loyal" stands alone as evidence that weird-ass motherfucking Black R&B dudes still actually make music too.
Cory Booker: Is still doing some political-ass shit somewhere.
Pharrell Williams:  Almost forgot to include him. Wasn't sure if New Black vampires could be considered "light-skinned." But might actually be having the best light-skinned year ever.
John Legend: Has become America's go to celebrity to hire to sing at all-star games, tribute specials, benefit concerts, birthday parties, Bar Mitzvahs, Carnival cruises, supermarket openings, kitchens, tattoo parlors, and Panera Bread community rooms.
I could continue, but I think my point has been made. And I kinda want Joe Budden to read this and get mad he didn't make the cut.