It happens the same way every year. After all the popcorn's popped, the sticky Jujubes swept away and the only red carpet that really matters is slowly unfurled, Vanity Fair releases its annual "Hollywood" issue.
For almost 18 years, the March magazine cover has always been packed with as much star power as physically possible. But what's always missing? Black folk. And what's not? Black-blogosphere outrage. So as surely as VF never fails to ignore black star power, the magazine's omission never fails to spark awards seasonal debate.
In its 2012 iteration, the Hollywood issue features "a bevy of Hollywood's most precocious beauties" in a somewhat ironic "Jazz Age" setup. Ironic because the uniquely American musical genre was the product of African-American genius. The 11 "beauties" sporting styles made internationally famous by the likes of Josephine Baker and Billie Holiday are Rooney Mara, Mia Wasikowska, Jennifer Lawrence, Jessica Chastain, Elizabeth Olsen, Adepero Oduye, Shailene Woodley, Paula Patton, Felicity Jones, Lily Collins and Brit Marling. Oduye and Patton are the only women of color in the bunch.
I, for one, was delighted to see Oduye on the cover — even if she was stunting in the second panel. Oduye's performance in Pariah was nothing short of transformative. She was goose-bump good and deserves, more than any other actress, to hold court on that cover. For her part, Patton is very pretty. Her most recent role in Mission: Impossible — Ghost Protocol was more of the same badass Bond Girl box into which Hollywood likes to pack pretty girls.
According to the popular pop-culture blog with a feminist twist, Jezebel, the only two actresses of color on the cover were somehow slighted by Vanity Fair because "they are not on the power panel, but on the right two-thirds of the cover, which is folded up and tucked away when on newsstands." But it's also true that the "power panel" is occupied by three Oscar nominees — Mara for her startling role in The Girl With the Dragon Tattoo, Chastain for her supporting role in The Help and Lawrence, who was nominated for best actress in 2010 for Winter's Bone and who'll star in The Hunger Games, the film version of the wildly popular best-selling books. The other woman on the "power panel" is Wasikowska, who was fabulous in The Kids Are All Right and most recently Jane Eyre and Albert Nobbs.
G/O Media may get a commission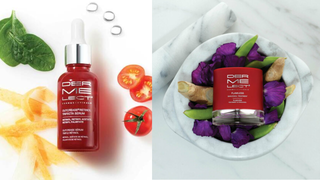 Save $19
Retinol Renewal Kit
But, of course, that doesn't dismiss the fact, as several blogs have highlighted this week, that since its first Hollywood issue in 1995 when Angela Bassett was featured on the back panel (along with Sarah Jessica Parker and Sandra Bullock), Vanity Fair has shone its spotlight on only 21 actors of color — including America Ferrera, Salma Hayek and Lucy Liu. And no nonwhite actor has ever been featured on the "power panel." That is a problem. A pervasive one, in fact. But it doesn't seem to be one "we" can necessarily fix unless more brown faces show up at Vanity Fair's editorial-board meetings.
ColorLines, a daily news site run by a "multiracial team of writers," Photoshopped its own Hollywood issue recently, giving a little shine to actresses like Issa Rae of the Web series Awkward Black Girl and Naya Rivera of Glee. Last month Ebony magazine displayed four of the black stars of Red Tails on its cover. Kerry Washington graces the March issue of Essence, and in the past, the magazine has featured Ruby Dee and Jennifer Hudson on the cover of their "black women of Hollywood" issue.
There is no doubt that inclusion has never been any mainstream magazine's modus operandi. Perusing the newsstands is nothing like looking in the mirror, whether you're looking for women of color or women with curves. But with the explosion of niche media — meaning you go online and devour all the news designed for you, finding images, interviews and pretty much anything about anyone — the outrage about exclusion is slowly losing some steam.
Sure, Vanity Fair has spent nearly the past two decades regularly not giving a damn about shooting a more colorful cover of Hollywood, so why get wounded every year? Instead head to places (you are here) that make it their mission to take matters into their hands, like the YBF, Racialicious, ColorLines and Shadow and Act, to name a few.
Helena Andrews is a regular contributor to The Root and author of Bitch Is the New Black, a memoir in essays. Follow her on Twitter. 
Helena Andrews is a contributing editor at The Root and author of Bitch Is the New Black, a memoir in essays. Follow her on Twitter.