That moment when your intended charity really looks like a hustle ... in the name of Nipsey Hussle.
Following the hugely tragic killing of Hussle (born Ermias Asghedom), many people across the nation wondered how they could honor his legacy.
Sportsball eye candy and tethered Kim Kardashian decided to do just that in the form of good old-fashioned crowdfunding. Retired running back Reggie Bush and his wife Lilit Avagyan launched a campaign to raise money to benefit the children of the late rapper, entrepreneur, educator and community organizer.
The GoFundMe page, which has now been taken down, quickly raised at least $13,000. The crowdfunding campaign initially had a goal to raise $100,000 that would "be transferred directly into a trust that was created solely for his legacy, his two children, Kross and Emani," according to TMZ. Kross is Hussle's son with longtime love Lauren London and Emani is his daughter from a previous relationship with Tanisha Asghedom.
G/O Media may get a commission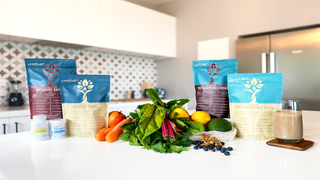 Here's the thing, though — the shit was unauthorized as fuck.
In the land of crowdfunding scams and Twitter fruit fly-outs, folks are extra cautious when it comes to who they lend their support to on social media. And for good reason. People have been burned before.
Two major questions arose when everyone became aware of Bush's plans:
1. Um, how can we assure the money will go to Hussle's kids?
2. Why are you asking us instead of digging deeper into your own rich ass purse?
Granted, according to Billboard, Bush donated $10,000 himself before passing the baton to the public, but folks still gave the effort a major side-eye since it wasn't affiliated with Hussle, London or his family in any way.
This was, indeed, a fumble, if you will.
Thankfully, social media and marketing strategist Karen Civil swooped in to let Bush know he had a little too much dip on his chip, noting his earnest campaign did not have a sign-off by the Hussle family.
Reggie responded to the backlash, while apparently clapping his hands to uphold the ancestors, I guess.
"I have absolutely nothing to gain from this!" the former New Orleans Saints player assured in ALL CAPS just in case y'all didn't hear him.
Civil confirmed the removal of the campaign.
Welp. When you do unauthorized clownery...
Either way, it looks like Reggie may have deemed this a "learning experience" that he should "embrace."
Aw, no touchdown for you, tink tink.