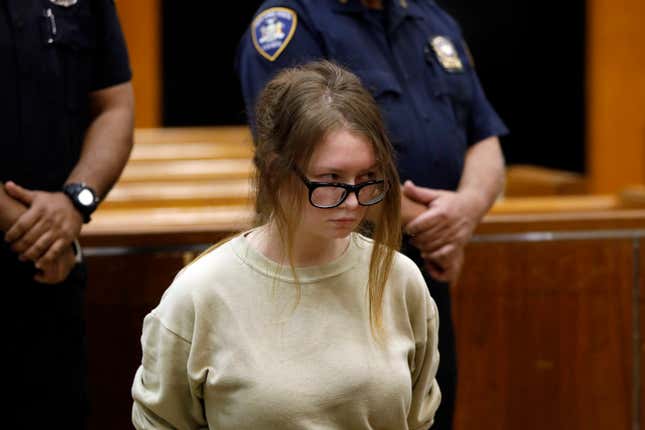 It looks like Anna Delvey aka Anna Sorokin aka the fake German heiress has landed her own reality series. Variety reported Wednesday that the show, entitled "Delvey's Dinner Club," will be filmed inside her apartment (in NYC'S East Village) where she is currently serving house arrest.
Kerry Washington Talks Shonda Rhimes, Scandal, & Motherhood | Securing the Bag: Part 2
Last year's Netflix series, "Inventing Anna," was created by Shonda Rhimes and fictionally chronicled the real life scams of Sorokin. In 2019, she was convicted with grand larceny. Sorokin was also found guilty of stealing more than $200,000 from investors as well as friends.
She was released from prison in 2021. However, Sorokin was detained by immigration authorities for overstaying her visa. She was released from ICE in October 2022. The press release, per Variety, states:
"She'll do it through what's already become one of the hottest tables in town — invitation-only, intimate dinners at her home. There, a Delvey-invited group of actors, musicians, founders, socialites, journalists and other esteemed guests will join her each week around a private-chef catered table replete with candid conversations where no topic is off-limits – including Anna's experience within the criminal justice system, her strategy to rebuild her image and her plans for the future."
People of color who were convicted of crimes way less severe will never be afforded the opportunities to "rebuild" their image nor have Hollywood knocking at their door the way that Sorokin has. In a statement, she said:
"There's nothing like the experience of bringing together a curated group of friends to share life stories and enjoy a great culinary experience. I'm grateful for the opportunity to work with (producers) Wheelhouse and Butternut to bring my vision to a wider audience and share a glimpse of the real Anna Delvey."

If this doesn't reek of white privilege, then I don't know what does.