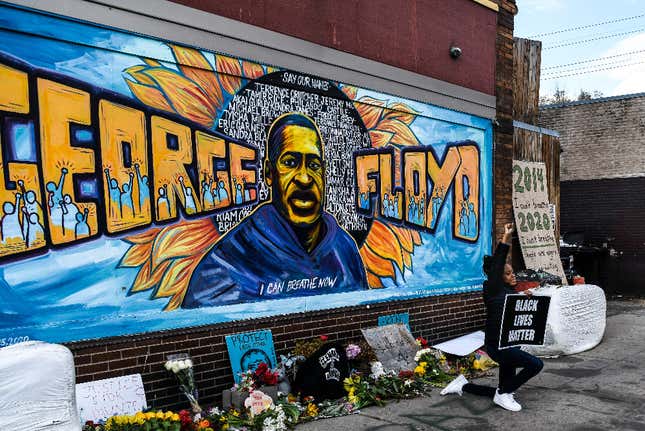 This Tuesday will mark the one-year anniversary of George Floyd's death. Two things were supposed to happen on or by that date: Floyd's family was to be hosted at the White House, and a federal police reform bill named for Floyd was supposed to be on President Joe Biden's desk. Unfortunately, it looks like only one of those things will come to fruition.
Oprah And Michelle Obama in The Light We Carry Is Our TV Pick This Week
Politico reports that the White House says that it is still very much dedicated to getting the George Floyd Justice in Policing Act signed into law, but officials aren't even close to ironing out all of the details so they won't make the May 25 deadline that Biden laid out during an address to a joint session of Congress last month.
From Politico:
White House press secretary Jen Psaki said this week that Biden issued the May 25 deadline because he felt it was "important to be bold and be ambitious." But the White House acknowledged by week's end that negotiations are nowhere near a conclusion.

"We are not going to slow our efforts to get this done, but we can also be transparent about the fact that it's going to take a little bit more time," Psaki said Friday. "The president wants to sign it into law as quickly as possible."
No one on Capitol Hill appears to have a problem with the delay. The general sentiments from Democrats appear to be that they want an effective bill that will make it past Republican opposition. Rep. Karen Bass (D-Calif.), who is one of the chief negotiators for the pending legislation, told reporters this week that "the most important thing is that we have a bill that hits the president's desk, not the date that it does."
Prominent Activists like Rev. Al Sharpton agree that it's better to have the legislation done right than to have it done quickly.
"My concern is, and I've communicated this to the White House, is that we come with a toothless bill to meet a hard deadline," Sharpton, who is president of the National Action Network, said, Politico reports. "I'd rather have a bill with teeth late than a toothless bill on time." He also said that he doesn't want negotiations to become "a Joe Biden-Mitch McConnell show," because we all know that any legislation aimed at correcting systemic racism in America will have the Senate minority leader huffing and puffing and ready to blow everything down.
The bill, which passed the House in March, "would ban chokeholds by federal officers and end qualified immunity for law enforcement against civil lawsuits, as well as create national standards for policing in a bid to bolster accountability," the Associated Press reports.
Of course, it's the part about putting an end to qualified immunity—the legal doctrine that protects cops from the consequences of their own actions being sued over misconduct allegations—has become so controversial that House Majority Whip Jim Clyburn said he'd be fine with a final bill that didn't include it.
But not all Congress members agree. In fact, Politico reports that on Friday, 10 House members, led by Rep. Ayanna Pressley (D-Mass.) and Cori Bush (D-Mo.), sent a letter urging House and Senate members to ensure that the final bill does away with qualified immunity.
"We are concerned by recent discussions that the provision ending qualified immunity for local, state, and federal law enforcement may be removed in order to strike a bipartisan deal in the Senate," the letter states. "Given that police violence, as a weapon of structural racism, continues to have devastating and deadly consequences for Black and brown lives across our country, we strongly urge you to not only maintain but strengthen the provision eliminating qualified immunity as negotiations in the Senate continue."
The Biden administration has not announced a new deadline for the bill to land on the president's desk. It would have been nice for Floyd's family and for all of us seeking change in police practices if, on the anniversary of Floyd's murder, his family would have been greeted at the White House with news that the police reform legislation named for Floyd was ready to be signed into law.
But at the end of the day, it is better to have the legislation done adequately than for it to be done fast. We want police reform that is actually police reform, not a "toothless" bill that looks more like political posturing than actual change and progress.