Last month the White House released a report, Creating Pathways to Opportunity, outlining a host of actions that President Obama has taken to help low-income Americans. On Wednesday, the administration unveiled the African-American version of that report.
The President's Agenda and the African American Community, a 44-page document, highlights many of the same policies as before, but with an emphasis on how they've benefited black people. According to the report, for example, the Recovery Act and its later expansions kept 1.3 million African Americans above the poverty line in 2010 alone, while this year the administration's Earned Income Tax Credit and the Child Tax Credit has benefited 2.2 million black families and nearly half of all black children.
Other efforts that the report identifies as having a disproportionately positive impact on African Americans include subsidized jobs programs, increased funding for Pell Grants, mortgage-modification plans for distressed homeowners and health care reform.
Getting Out the Message
To further drive home the "We've done a lot of things to help black people!" message, on Wednesday the White House also held the African American Policy in Action Leadership Conference, the first event of its kind. The daylong series of panels and breakout sessions gathered black leaders from various community sectors (I spotted Susan L. Taylor, Philadelphia Mayor Michael Nutter and Martin Luther King III) with Cabinet members of the Obama administration to discuss how the president's efforts impact African Americans, solicit feedback and identify ways to build on their policy agenda.
G/O Media may get a commission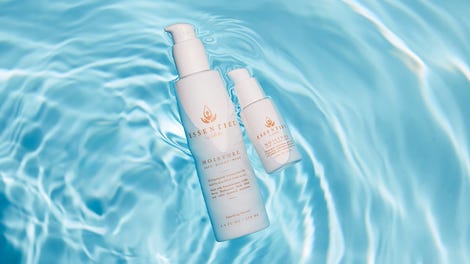 20% off
Essentiel by Adele
"Everyone here had a role in our accomplishments to date," said White House senior adviser Valerie Jarrett in her welcoming remarks, "We want to have [our new report] as a document to share with you and brief you on, that you can then take back to your communities and describe all that we have done so far."
The administration claimed that the idea of reports and conferences designed to publicize their own accomplishments didn't actually originate at the White House. "This is something many of you have urged us to do, to do a better job at telling our story and explaining how these policies help the African-American community," Danielle Gray, deputy director of the National Economic Council, told the crowd. "It was a good exercise for us to try to wrap it up into a more coherent vision."
Why Did It Take So Long?
Although Wednesday's event was called the first of its kind, the fact is the Obama administration has held similar large-scale events focused on combatting the challenges facing other racial and ethnic groups. In 2009, for example, President Obama held a White House Tribal Nations Conference, followed by a 2010 summit hosted by the White House Initiative on Asian Americans and Pacific Islanders. In July the White House also hosted a Hispanic Policy Conference. But this was the administration's first big summit looking specifically at the African-American community.
"Many of us would have preferred it if this had been held earlier," Marc Morial, president of the National Urban League, told The Root of Wednesday's conference. "But that's not the most important thing. The most important thing is that there's a commitment by the White House to strengthen the dialogue with a broader group of leaders who are very interested in the direction of the country, and who represent communities that have really taken for the worse in the recession."
Morial, who was invited to the conference but could not attend, nonetheless had ideas for the "giving recommendations" portion of the event. "Focus on jobs," he said. "Focus on the things you can do without the Congress. Work hard right now to put together a summer jobs program for young people for spring and summer of 2012. Every day wake up and focus on everything that presidential influence and authority can impact in terms of job creation and putting people back to work."
Moving On, Without Congress
To hear President Obama tell it — as he did on Wednesday, during a "surprise" appearance at the African American Policy in Action Leadership Conference — that's what he's doing. Acknowledging that African-American unemployment is "way too high," he first emphasized provisions in his American Jobs Act that would address it.
"It is the only plan out there that independent economists have said would put people to work right now," Obama said, pointing out that the bill would employ teachers and construction workers, provide support for the long-term unemployed and reinstate the youth summer jobs program. "As you know, so far the Senate has said no."
While the president says he still has faith in some of the jobs bill's chances, he's also looking beyond Congress. "We also want to continue to find ways where we don't have to wait for Congress," he said. "Part of the function of this gathering is to share your best ideas, your best practices. What are the things that we can implement in the next three months? Where are areas where you see a potential difference being made?"
Over the past few weeks, Obama has rolled out a series of executive orders with this in mind. So far, among other steps allowed under presidential authority, he has lowered the monthly cap on income-based student loan repayment, and allowed borrowers to consolidate different federal student loans. He's also expanded a Federal Housing Finance Administration program to let more underwater borrowers qualify and reduced the time it takes for small businesses to get paid when they have federal contracts.
"We have been through tougher times before. Our parents have been through tougher times; our grandparents have been through tougher times," the president said in closing. "So I just want everybody to participate here in a spirit of persistence, determination and unity. If you maintain that spirit, then I'm confident that not only will the African-American community emerge from these difficult economic times stronger than we were before, but this entire nation is going to come out more unified, and better equipped to deal with the challenges of the 21st century, than we were before."
Cynthia Gordy is The Root's Washington reporter.