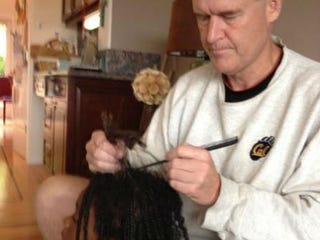 News anchor Frank Somerville of Oakland, Calif.'s KTVU gave viewers a peek into his personal life earlier this week, posting an image on his Facebook page of himself removing his young daughter's braids. It was captioned as follows:
So for those of you who think tv can be glamorous, this is how i spent my morning, learning how to take out my daughter's braids. It takes a long time and a lot of patience!
But the public took more from the photo than evidence of Somerville's mundane off-camera activities. With more than 1,400 comments and more than 2,500 shares, the moment between a white father and his black daughter sharing this tedious but intimate routine inspired an outpouring of sentiments related to colorblind love, family, nostalgia and simply the shared experience of doing little girls' hair.
Of course, there was a smattering of hateful and racist ones, too, but the response was overwhelmingly positive. As one Facebook commenter put it, "This makes me happy in so many different ways." Some of the others:
Omg, you are so freaking awesome. Being a black woman myself, I know how time consuming taking braids down are. I commend you. Lemme know if u need any advice.

This is so sweet.!                                                       

If I bring my daughter to the studio, will you please do hers. It is soooo time consuming. LOL. Seriously, I don't know too many dads that will do any girls' hair so kudos to you.

I REALLY love this!! Such an awesome dad & daughter pic!

Whoa awesome . Don't you just love some dads. They are the best.

This makes me happy in so many different ways….

A sign of the times!!

This is cool - another view of our world.

Priceless ~ love it.

Appreciate seeing what the media won't show ~ real love of each other.
In response, Somerville posted the following status today:
"It's not often that I am speechless, but I am floored by the response to the picture I posted, and by how touching and personal many of them were. To me the picture shows a dad doing what a dad SHOULD do, and loving every minute of it. The birth of my first daughter, and adopting my youngest daughter, are the two best moments of my life, and I feel like the luckiest dad in the world that my family is interracial. I can't thank all of you enough. And remember CHANGE HAPPENS ONE PERSON AT A TIME!"
The fact that the 10 o'clock news host had a black adopted daughter wasn't a secret. Somerville said in a recent interview:
And finally, my youngest daughter is adopted, she also happens to be black. I mention this only because adopting Callie is what I am most proud of in my life because I can now say that in my own way I have made a difference in someone's life. And by the same token Callie has made a huge difference in my life.
There's no question that adoption makes a difference. But based on the response, it seems that images like this one might also have the potential to do a little of the same.