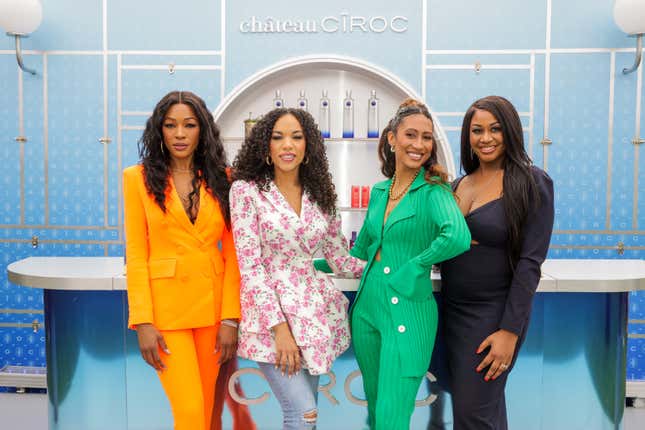 During the weekend of February 11 and 12, most people were laser-focused on the Super Bowl (and Rihanna's performance, of course). But while all of that was going on, CIROC was hosting an important conversation about Black women in sports journalism.
Courtney B. Vance in Heist 88 Is Our Black TV Pick of the Week
As part of their #CIROCStands for Black Excellence, a campaign intended to highlight extraordinary voices in the Black community, Diddy's spirits brand teamed up with the National Association of Black Journalists (NABJ) to host a Super Bowl Weekend panel honoring women of color in sports journalism. The powerful conversation, hosted by journalist and bestselling author Elaine Welteroth, included sports journalists MJ Acosta-Ruiz, Cari Champion, and Kelsey Nicole Nelson in a conversation about their success in the industry and the peaks and valleys they've experienced along the way.
The Root spoke with Elaine Welteroth about why she thought it was so important to show a little love to the next generation of Black journalists.
In addition to being the former editor-in-chief of Teen Vogue, the youngest person and only the second African American to hold the position at a Condé Nast publication, Welteroth's resume includes senior editorial roles at Glamour and Ebony. And if all of that wasn't enough, she's also the New York Times bestselling author of "More Than Enough: Claiming Space for Who You Are (No Matter What They Say," a book about being a boss on your own terms.
But while her impressive portfolio makes her one of the most well-respected journalists in the industry, Welteroth says the road was not always easy.
"I remember being an intern like it was yesterday and all of the early challenges that I faced in my career so vividly," she said. "I feel a real responsibility to invest whatever time, resources and energy I can to help other journalists of color navigate their careers and hopefully avoid some of the challenges and pitfalls I faced."
Welteroth called the opportunity to partner with CIROC and NABJ the perfect forum to shine a light on Black women in sports journalism who don't always receive the credit they deserve. And she adds that Super Bowl weekend was the perfect time to address the need for more women in the industry. "I didn't know, until I was preparing for this panel, that women represent only 11 percent of the industry in sports media. And the percentage drops significantly when you talk about Black women in sports," she said.
Although the women on the panel cover different aspects of the industry, Welteroth says they found through lines along their often challenging professional journeys.
"People were moved to tears. We saw each other in our stories. We connected and felt seen. It was like Black girl journalism church," she said. "Whether we're in fashion, sports, broadcasting, print or digital, we all understand what it means to be the first, the only, and to feel different," she said. "It's a very small niche, and we have to stick together."
CÎROC's partnership with the NABJ is part of their continuous effort to maintain a thriving pipeline of Black storytellers in the industry.