To say that Nia Long is a national treasure is an understatement. Long has been a part of most of our lives since at least the mid-'90s, when she played Beulah "Lisa" Wilkes on The Fresh Prince of Bel-Air and when a visionary Ice Cube saw fit to cast her in cult classic Friday.
Jabari Banks On A Potential Bel-Air Musical, Fresh Prince Cameos, & A Game of 'Which Aunt Viv?'
Thank you, Ice Cube.
And then there's Love Jones. Because of course, Love Jones.
Since then, Long has been in movies, music videos, Target … other stuff, basically. Nia Long needs no introduction. We all know who Nia Long is. Because she's gorgeous and has been for a very long time and we love her, especially within the hip-hop community. Hip-hop loves Nia Long; I'd wear that as a T-shirt and use it as a bumper sticker for my car.
This brings us to a recent sit-down interview she did with Larry King, who made it clear that if they were on a plane together, he'd spit his game and talk his s—t. Larry King, you a dirty motherf—ker. I respect it.
King asked her why hip-hop has taken such a liking to her, and she answered the question. Something about safe spaces, tranquilizers and growing up with the game or something. Honestly, I don't remember. I spent too much time looking at how hot she is.
But the next line caught me off guard. King, whose playlist just might be more hard-body than yours (if I found out that King was an M.O.P. fan, I can't say that I'd be surprised), asked her about J. Cole's line from 2014 Forest Hills Drive standout "No Role Modelz," where he said, "My only regret was too young for Lisa Bonet/My only regret was too young for Nia Long."
G/O Media may get a commission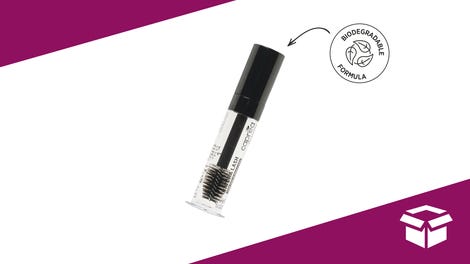 It's $8
20% Off Lash + Eyebrow Serum 2.0 - Caprea Beauty
To which Queen Nia responded: "He's not too young; he just doesn't know it."
Scrrrr.
Look, I know she's talking about J. Cole and not Panama Jackson, but when I tell you I almost got on Twitter to @JColeNC with, "Cole, you the man, b!!!! Nia Long is checkin' for you!" like we grew up together. Nia Long—one of the few women whom girlfriends, wives and sidepieces alike might just "understand" if their man stepped to her—said, in so many words, that if J. Cole had shot his shot, he mighta, coulda had a chance.
I feel like J. Cole just won the lottery (and was going to give me a cool million), and he probably already did win, because he recently got married. And I'm happy for him.
Twice. I'm happy that he's married and I'm happy that Nia Long is like, "Naw, boo, you ain't too young … you just don't realize it."
I could only be more hype if she had said those words to me.
On the flip side, it has to be a mental but-not-really-but-kind-of clusterf—k for Cole. Imagine, if you will, that he's sitting at home, probably reading Better Homes and Gardens, sipping on a French vanilla chai latte (it's what we light-skinned dudes drink when we're in the privacy of our own homes), remarking about the latest news coming out of the Federal Reserve to his wife, who is feverishly writing down her best bars in hopes of making that guest appearance on a song that Cole promised if she could get her bars up.
His phone buzzes—a phone call, not a text, because this is the kind of news you call with, not text. His mans and 'em says, "Yo, Lightskint Jermaine … tell me you saw the interview Nia Long did with Larry King, fam. PLEASE tell me you saw it."
Lightskint Jermaine: Naw, b. I've been in here making beats and writing bars. I don't read Better Homes and Gardens at all.
Mans and 'em: What the f—k are you talking about? S—t. Who cares? Just google "Nia Long and Larry King" for me. Right now. I'll wait. Don't hang up. And don't make any sudden movements after you watch it. How's your wife? Good. Sweet. Don't tell her what you're doing, either. I'll wait.
LJ: [Googles. Watches. Chokes on what could have been.]
Mans and 'em: BRUH!!! NIA LONG SAID YOU GOT A SHOT!!!
LJ's wife: You watching that Nia Long interview? I saw that s—t. Michelle Leslie Brown … you remember her? From 125th Street who used to play ball at the park? She sent it to me. That must be f—king you up. Don't even think about it. She bad as f—k, though. I bet you wish you had that opportunity! Oh well, what do you want on your Tombstone, Pierre? That's a double entendre, but I think you get my point. Hang up the phone, Jermaine.
LJ: Bruh. I … I … I'll call you back.
I imagine his day went something like that.
Cole is probably a very happily married man. Clap for him. But Nia Long basically putting the ball in his court (and let's be real, he'd probably fumble it; when women like Nia Long put the ball in your court, you're 10 times more likely to blow it because you're trying NOT to blow it) was a win for all of us. I don't even know how, but it was. That's how I feel right now.
Cole, you the real MVP.
And Nia Long, you are the reason the MVP award even exists.

Panama Jackson is the co-founder and senior editor of VerySmartBrothas.com. He lives in Washington, D.C., and believes the children are our future.