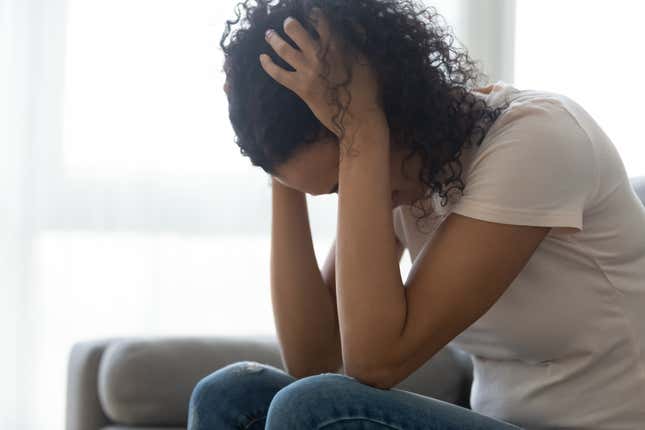 The Facebook post read, "MISSING: Téa B. Choates, Last seen Tuesday 8/6 in Lithonia Ga area." The social media plea came from Choates's mother, Ebony King. The 19-year-old was last seen by her fiance, Aldeyshaun Locklear. Seven days later, Choates's body was recovered from a wooded area on the outskirts of Atlanta, CBS46 reported. Locklear, 18, was charged with felony murder, aggravated assault-strangulation and concealing a death. He confessed to killing and burying Choates, who was allegedly three months pregnant, after a "heated argument."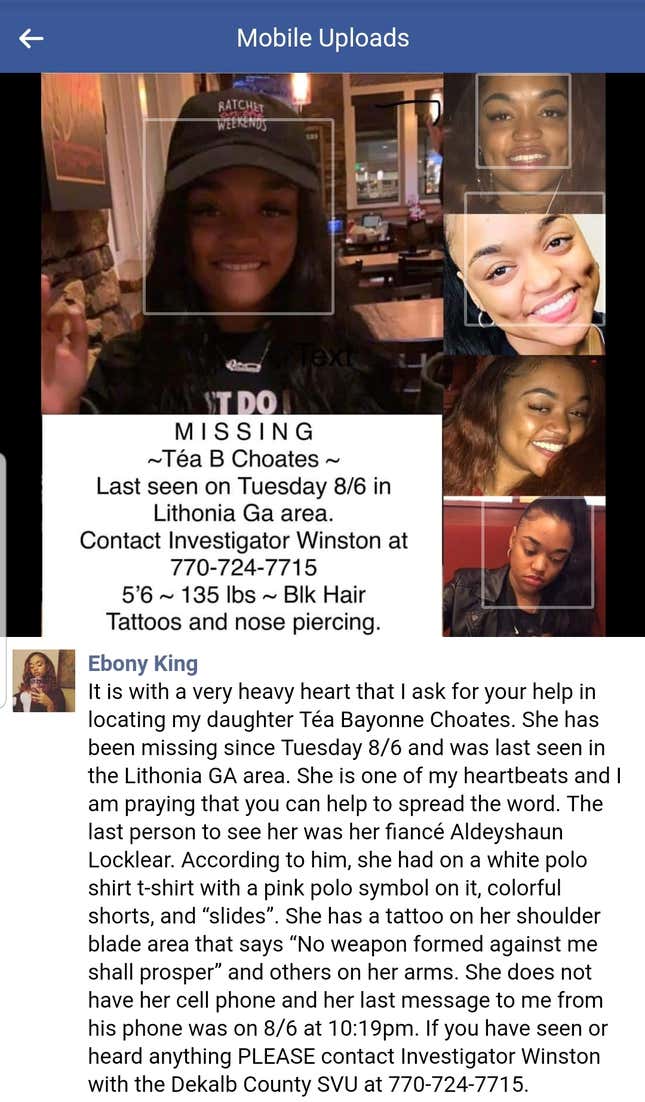 On July 16, Carl Robinson stomped the pavement in front of a Mississippi clinic where his wife and mother of his three-year-old son, LaToya Thompson, worked as a receptionist. He entered and gunned her down with a ".38-caliber hammerless Smith & Wesson pistol," the Daily Journal reported. Robinson, a candidate for Mississippi state representative, then turned the gun on himself. Thompson's colleagues tried feverishly to save her life, performing CPR, but she died before a medical helicopter arrived to airlift her to an area hospital. According to the Clarion-Ledger, her killer was served divorce papers just hours before.

Choates and Thompson join a list of black women whose fatalities are the result of violent, unhinged men who struggle with hegemonic masculinity—also known as the toxic caveman shit that has many men believing they can control and dominate women, forcing them to engage against their will.
But the recent killings of African-American women far exceed being "crimes of passion." They are more so terroristic. In many cases, they have been plotted and executed with the same vengeance and reckless abandon as crimes carried out by Omar Mateen, Dylann Roof, and Timothy McVeigh. Each occurrence, more egregious than the last, points to the fragile male ego and a pervasive threat to black women.
On July 11, Jerome Stewart, 23, and Anthony Dees, 30, rightfully lost their shit when their mother's murderer allegedly flashed a sinister smile during a sentencing hearing. In 2017, Dale Williams killed Elizabeth Pledger-Stewart in cold blood. Williams confessed to planning the murder, stalking Stewart in an alley along the route she drove to work, deliberately running her off the road and causing her to crash her car, and then emptying a barrage of bullets into her body. He was still firing when police arrived at the scene. His reason: "He was angry and, basically, fed up" after their split, WKBN reported.
This level of savagery is far more common than the incidents covered in the media might suggest; so much so that, for many, domestic violence may not be considered news, but rather the norm. However, no matter what the public response is, domestic violence ending in murder is a pressing concern that plagues women, particularly black women. The evidence is in the statistics: while according to the Centers for Disease Control and Prevention (CDC), just over 55 percent of all female homicides are connected to intimate partner violence, a 2017 report by the Violence Policy Center, "Female Homicide Victimization By Males," found that 93 percent of black women were murdered by men, at more than twice the rate of white women. Ninety-one percent were killed by black men and 58 percent by intimate partners.
Domestic violence resulting in death is not exclusive to intimate partner relationships. Children are victims of domestic homicide, too. Little Maleah Davis is a heinous example. In May, Maleah, 4, came up missing while in the care of her mother's ex, Derion Vence. Her remains were later discovered in a bag on the side of an Arkansas highway. Vence spun an incredulous kidnapping tale, but allegedly later disclosed the young girl's whereabouts, saying that she was hurt in an "accident," reported KHOU. The speculation behind the horrific event was that the girl's mother, Brittany Bowens, had broken off an engagement to Vence, allegedly, after both suspecting him of molesting her child and busting him texting an illicit photo of himself to another man. Vence's retaliation was taken out on little Maleah.
Who raised these heathens?
As I recall my own brush with intimate partner violence, I sympathize deeply with these women. The trepidation I felt knowing my emotionally disturbed ex was stalking my every breath was lightweight compared to the terror I experienced when he beat me bloody. He forced his way into my home, body-slammed me across a dining table, dragged me by a handful of my braids, yanking out all but four from the scalp, pummeled my head with angry fists, kicked and stomped my torso, and left me with severed tendons in my left hand—all because I no longer wanted to date an emotionally unstable manchild.
I thought I might die, but I didn't. I survived. These black women did not. Here are 15 black women who were senselessly murdered by the terroristic men in their lives.
Stewart, a young nurse, was strangled in her home by a serial killer she met on Tinder.
The father of Richards's three-year-old son shot her in the head outside of the salon she co-owned.
Dr. O'Neal was gunned down in the hospital emergency room where she worked by her former fiance.
Fraser, a school teacher, was stabbed to death at her home by her ex-husband, a judge with a history of violence against her.
Childs was shot dead days before her 18th birthday by a disgruntled ex who was 11 years her senior. She made several attempts to leave the relationship and made pleas for help through the court system.
Jackson, a mother of two, was shot multiple times in front of a friend by her children's father.
The two sisters were shot and left to die inside their burning apartment. The teenage father of one of the sisters' children was arrested in connection to the murders.
Robinson and her daughter were killed by her ex-boyfriend—the child's father and Robinson's alleged pimp—in retaliation for leaving him. He shot Robinson and another woman and dumped the two-year-old's bludgeoned body.
Spellman, the mother of seven, was stabbed along with three of her children by their father for wanting to end the relationship.
Byrd was dismembered by her schizophrenic son, who took a selfie while holding her severed head.
The father of Jeffers' three kids beat down her door and shot her in front of the children on Thanksgiving Day.
Five-time Olympian Danielle Scott's sister, Vallery, was viciously stabbed to death by her husband, who couldn't accept their pending divorce. He left the home after killing her, returning shortly after to stab her several more times.
Billups was doused with gasoline and set ablaze by her newlywed husband because he didn't like other men looking at her.
Just as the nightmare of my assault will never escape the recesses of my mind, these deaths will never be erased from the statistics. Yet, they are more than numbers representing tragedy; they are black women who mattered. They were humans. They were loved. They have names.