For Dr. Tamara O'Neal, helping people was both a profession and a way of life.

In the wake of her apparent murder Monday afternoon at Chicago's Mercy Hospital and Medical Center where she worked, family and colleagues have given emotional testimonies on the strength of O'Neal's character.

The 38-year-old physician graduated from the University of Illinois College of Medicine in Chicago in 2016 and had worked as a resident at Mercy for two years. She raised money for disadvantaged children and led her church choir, Connor said, choking up with emotion and pausing frequently.

"That was her one thing she wanted ... to be able to go to church on Sunday," Connor said.
Emergency room clerk Steven Mixon described her as a "sweetheart." Her colleague, Dr. John Purakal, said O'Neal was "beautiful, resilient, passionate."
G/O Media may get a commission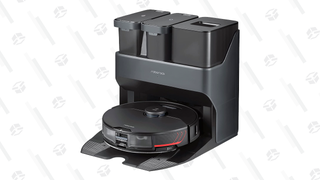 24% off
Roborock S7 MaxV Ultra Robot Vacuum and Mop
"She's one of the sweetest nieces that I have," said O'Neal's aunt, Delores Davis, per NBC Chicago. "She was also dedicated to her church."
"This tears at the soul of our city," Mayor Rahm Emanuel said at a press conference Monday night. "It is the face and the consequence of evil."
It's speculated that O'Neal's murder is related to a canceled engagement with the gunman, Juan Lopez, who went on to kill two other people at the hospital before his own death. Lopez reportedly shot O'Neal multiple times after she'd already fallen to the ground.
It's horrifying how quotidian the story is. A "domestic dispute." An "altercation." And then a murder.

A part of me hates running through the statistics, for the same reason I hate feeling like I'm writing the same story over and over. Tamara O'Neal is not Aisha Fraser, who is not the woman whose ex-boyfriend shot her in the back of the head at her workplace. Each of these women had lives, inner universes, futures expansive and infinite with unique possibilities, which are now gone.
But I'll run through the facts again this time, the same ones we always run through. From the CDC:
Non-Hispanic black and American Indian/Alaska Native women experienced the highest rates of homicide (4.4 and 4.3 per 100,000 population, respectively)

Over half of all homicides (55.3%) were [Intimate Partner Violence] related

11.2% of victims of IPV-related homicide experienced some form of violence in the month preceding their deaths; argument and jealousy were common precipitating circumstances

Non-Hispanic black women had the highest rate of dying by homicide (4.4 per 100,000)

Homicide is one of the leading causes of death for women 44 years old and younger

If you see the pattern, you've probably discerned that black women die from homicide far more frequently than the average, as well.
It's mind-boggling at this point to even try to come up with anything else to say to the men who do this, who watch it happen, who contribute to a culture where this has become terrifyingly quotidian. Stop murdering women. Stop murdering your partners. Stop abusing people you're supposed to be caring for.
Stop ignoring us when we beg you to stop.