When my uncle handed me his headphones when I was 14 years old, I knew I wasn't supposed to be listening to rap music. Those things just didn't happen when you grow up in a house where secular music is frowned upon, but I looked up to my uncle and knew he wouldn't steer me wrong. Plus, I knew he wouldn't tell that I was listening to rap music.
Blasting through the headphones was a voice that I still hear whenever I think of the injustices that black people continue to face today. When I saw hundreds of people marching in Ferguson, Mo., it was Chuck D's voice that sounded off in my head. "Fight the Power" was the first rap song I ever listened to. Public Enemy was political back then, and Chuck D hasn't stopped fighting the good fight. But recently it seems as though some rappers (#notallrappers) have lost touch with the realities of the world, especially when it comes to social issues like racism.
Last week two rappers made it clear that they see the world through rose-colored glasses. Common and A$AP Ferg both made statements regarding racism and the state of the world we live in. Common, who at one point was considered a conscious rapper, is of the ilk that black people should extend a hand in love to white people in order to put an end to racism. A$AP Ferg actually thinks racism is over because of the Internet and interracial relationships. Sure, everyone has the right to his own opinions, but a simple act of channel surfing or Internet surfing will show anyone that racism isn't just going to go away by showing love, and even those in interracial relationships still face racism to this day.
Thankfully, there are rappers out there who have their ear to the streets when it comes to issues that plague black people and the communities they live in. From racism to police brutality, rappers have stepped from behind the mic to voice their concerns.
To go through the plethora of rappers who are out there in their communities would require thousands of words and a reader's attention span that's greater than a mosquito's. But over the last couple of years, the following rappers have made it their point to speak out against racism and the systematic injustices that black people still experience. These rappers realize that #blacklivesmatter, whether they're rapping about it or in the trenches proving it.
G/O Media may get a commission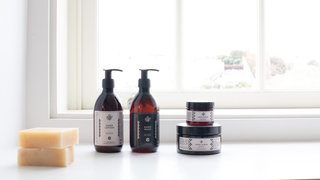 Exfoliate and Hydrate
The Handmade Soap Company
Killer Mike
Hailing from Atlanta, Killer Mike isn't one to bite his tongue when it comes to his political commentary. As a self-described "Pan-Africanist gangster rapper, civic leader and activist," Killer Mike has made statements about the prison system, police brutality and same-sex marriage. Killer Mike has always said it's his responsibility "to be politically active, and I have to be a credit to my race." Last summer, when the Ferguson grand jury decision was released, Killer Mike was in St. Louis for a show and delivered an emotional speech before the start of his concert.
"We usually come on to Queen's '[We Are the] Champion[s],'" Killer Mike began. "And I just gotta tell you today that, man, no matter how much we do it, no matter how much we get s—t together, s—t comes along and kicks you on your ass, and you don't feel like a champion. So tonight, I got kicked on my ass when I listened to that prosecutor.'
In an op-ed for Billboard, Killer Mike also discussed the underlying issues of racism and bad policing:
I have searched all night and day for new and better words that could express my feelings and fear for the people of this country. I found no new words. I have no hope-filled insight to deliver. I only have this warning to all Americans: Whatever this country is willing to do to the least of us, it will one day do to us all. The police are paid by the public and carry a public trust, and they take an oath to protect us as citizens. The police have lost sight of that and must be reminded that we pay them to protect us, not to simply engage and cage us.
J. Cole
"That coulda been me, easily," North Carolina native J. Cole said six days after Mike Brown was shot and killed in Ferguson. "It could have been my best friend. I'm tired of being desensitized to the murder of black men. I don't give a f—k if it's by police or peers. This s—t is not normal."
Days after Mike Brown was killed, Cole released his song "Be Free." It was poignant and apropos at the time, and months later, it still is. But J. Cole did more than release a new track. Cole stood with the people who were protesting in the streets. Cole made his presence known in Ferguson, and also later in New York City. In an interview with Complex, Cole made it clear why he made his presence known in Ferguson.
"Last week it was the same ol', 'Damn, this is f—ked up.' This week it's like, 'What can we do?'" Cole stated.
And when it comes to racism, especially when it has to deal with music, Cole waxed poetic on last year's 2014 Forest Drive. On "Firing Squad," Cole went full speed when addressing white artists' appropriation of black culture and how white is white when it comes to music: "History repeats itself and that's just how it goes/Same way that these rappers always bite each other's flows/Same thing that my n—ga Elvis did with rock and roll/Justin Timberlake, Eminem and then Macklemore.
"While silly n—gas argue over who gon' snatch the crown/Look around, my n—ga, white people have snatched the sound/This year I'll probably go to the awards dapper down/Watch Iggy win a Grammy as I try to crack a smile," he continued. "I'm just playing, but all good jokes contain true s—t."
Cole is also putting his money where his mouth is. Earlier this year, he announced that he would let single mothers live in his Forest Drive home rent-free. 
"Nah, I don't really live there," Cole stated about his famous address. "What we gon' do, we still working it out right now. Obviously it's a detailed, fragile situation I don't wanna play with. My goal is to have that be a haven for families. So every two years, a new family will come in, they live rent-free. The idea is that it's a single mother with multiple kids, and she's coming from a place where all her kids is sharing a room. She might have two, three kids, they're sharing a room. She gets to come here rent-free. I want her kids to feel how I felt when we got to the house."
Talib Kweli
While visiting Ferguson, Talib Kweli did something many people only dream of. He put CNN's Don Lemon in his place. It was just a small victory for those of us in the media who often find ourselves shaking our heads at the anchor. But that wasn't all Kweli did while he was in Ferguson, or what he does in his daily life. When he's not making music, Kweli is an activist, and it goes beyond a hashtag.
While on the ground in Ferguson, Kweli helped launch the Ferguson Defense Fund, a crowdfunding campaign with the goal of supporting the activists in Ferguson. The fund surpassed its goal of $25,000 by raising a total of $112,052. The Action Support Committee—made up of artists, organizers and activists, and created to disperse the funds through grants to community programs—said it plans to allocate the donated funds to various programs in Ferguson.
"These are young men and women who have put their lives on hold to stand up for all of our freedoms," Kweli said in a statement. "The overly militarized police force in Ferguson has attempted to criminalize them by harassing and throwing them in jail for exercising their right to peaceful protest. We hope these funds help to empower."
Tef Poe
Many people may not be familiar with the rapper Tef Poe, especially if you're not from the St. Louis area. But Tef Poe has become a voice that's to be reckoned with when it comes to what's going on in Ferguson.
"I would personally consider myself a sellout if I didn't contribute something greater to the situation," Tef Poe told Global Grind in October. "Hip-hop sets the tone for the hood. In certain pockets of St. Louis, I have more power than [President] Barack Obama, so I have a responsibility."
Tef Poe is not only a leader in the community; he has also used his music to address Missouri's governor, Jay Nixon, in his song "War Cry." Tef Poe called Nixon and other St. Louis politicians "cowards" and "slave catchers." "The system full of snakes; the governor can't fix it," he rapped. "With every breath of my body, it's f—k Jay Nixon."
In an interview with Mic, Tef Poe explained from where he draws his inspiration. "The one thing that Martin Luther King mastered was knowing precisely when to make people uncomfortable, precisely when to push a little bit harder and knowing when to pull back," Tef explained. "We have to determine what we can do to make the system so uncomfortable so that it concedes to what we want.
"I once believed in this term 'casual revolution' where you could casually change the world through your everyday interactions with other people and not disrupt your own life or society too much," he added. "I don't think I believe in that term anymore."
These four rappers mentioned are just the tip of the iceberg when it comes to rappers who actually know a thing or two about racism, injustice and how they play a huge role, not only in hip-hop, but also in the daily lives of black people. But if they weren't enough, just take a look at the people with whom they surround themselves. There's Immortal Technique, Jean Grae, Big Krit, David Banner, Dead Prez, Chance the Rapper, Kendrick Lamar (even though he believes #alllivesmatter). All of these rappers are reminiscent of Public Enemy, Tupac Shakur and KRS-One when it comes to their political statements and having a finger on the pulse of what's happening in the black community.
These are the rappers mainstream media should be coming to when they need answers to their questions about racism and black people. But of course, they'd rather seek out the ones who will sugarcoat their thoughts and sing "Kumbaya" instead of "fighting the powers that be."