The NAACP Legal Defense and Educational Fund is opposed to what it calls "mass incarcerations for terrifyingly long periods of time," so its chief counsel is not very upset at what is upsetting so many people in Mississippi and nearby states: Gov. Haley Barbour's on-his-way-out-the-door pardons and early releases to more than 200 people (pdf), including four convicted killers who had worked at the governor's mansion as inmate trustees.
A Clarion-Ledger editorial criticized Barbour for "mule-headedness" in handling clemencies it believes he had unlimited power to grant by dropping them on the public without explanation. But the state attorney general, Jim Hood, has called the releases "shameful" and has gone to court to hold up the release of the few who are still behind bars and to challenge the others.
Barbour has since said that he was exercising gubernatorial authority to express his belief in giving people a second chance. That startled people who thought of Barbour as a strict law-and-order man.
"This is a handful of people," says John Payton, president and director-counsel of the LDF, putting the clemencies in context. "There are thousands of people in prison in Mississippi."
But that "handful" has the state in turmoil, and now some of those who received clemency have been ordered to report to authorities. Four of the five governor's trustees showed up for a hearing last week; a fifth, convicted of murder and robbery, did not. A judge has ordered a hearing for Feb. 3 to figure out where matters stand. A legal question is whether the requisite 30 days' legal notice had been placed in local newspapers across the state.
G/O Media may get a commission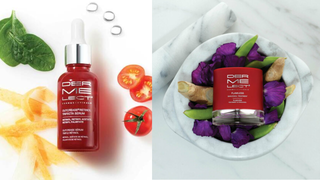 Save $19
Retinol Renewal Kit
The NAACP (separate from the LDF) is quietly working on one case of clemency that it does not want to be lost in the hubbub. It is trying to help a young man who has been incarcerated return home to South Africa.
This being Mississippi, questions have been raised about the impact of race on who was released. According to an analysis conducted by Reuters, two-thirds of those who benefited from Barbour's largesse are white. Two-thirds of the state's prison population is black.
Barbour explained his decisions in an op-ed piece in the Washington Post: "The mansion inmates I fully released are not threats to society. They have paid the price for their crimes, having served an average of 20 years' imprisonment.
"In Mississippi, the constitutional power of pardon is based on our Christian belief in repentance, forgiveness and redemption — a second chance for those who are rehabilitated and who redeem themselves. Other great religions have similar tenets; so does the U.S. Constitution."
One notable, and so far unexplained, oversight was the case of the Scott sisters, Jamie and Gladys. After they spent 16 years in prison for their questionable role in a robbery that netted $11, Barbour suspended their sentences in 2010 and set them free on condition that Gladys donate a kidney to Jamie. They were whisked out of the state but must still report to Mississippi parole officials. Gladys told the Associated Press that she is shocked that they weren't on Barbour's pardon list.
"The sisters are doing well. They are holding their own," reports Hilary Shelton, an NAACP spokesman. According to him, they are living on their own in Pensacola, Fla., among family members and are dealing with health issues.
Barbour has said that most of those pardoned or given some other form of clemency had been out and about in their communities for years. His action just clears their names so that they can vote, get jobs or get hunting licenses. He no doubt prefers that people think of pardoned individuals like Thomas Ailes — a disabled Vietnam vet convicted on marijuana charges but released from prison in 1977 — instead of the convicted killers who were pardoned.
As all this gets sorted out, Payton of the LDF sees the future for many of the former inmates as difficult as they re-enter society needing to reunite with families, find jobs and vote. "This is a small version of a bigger problem: what to do about massive incarceration." And that is something Payton has a deep interest in.
E.R. Shipp, a Pulitzer Prize-winning journalist, is a frequent contributor to The Root.