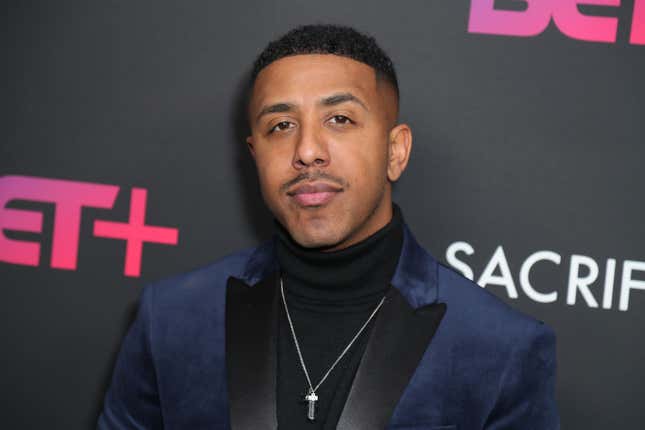 Singer and actor Marques Houston may have been a tertiary character on the popular 90's show Sister, Sister, but this week, he's become the main character on social media thanks to a viral new interview where he discusses the nearly 20-year age gap in his marriage.
Why Creators of HBO Max's South Side Chose To Focus On That Part of Chicago
In a preview clip of his upcoming interview on TV One's popular series, Uncensored, Houston, (who's currently 41) explained that he first met his wife, Miya Dickey, in 2018, when she was 17 but the two didn't begin forming a serious relationship until she was "of age." Per Complex, the two dated for just five months before officially saying "I do" back in August 2020.
"Me and my wife's situation is a little different, how we met through mutual friends and everything like that," Houston explained. "When I met my wife, she was 17. We had no, really, conversation and no, really, connection until she was of age."
He continued, "People don't understand it. And of course, I got a lot of backlash for marrying someone that was 19. And, you know, when we did finally start to talk, I was like, 'This woman is like me.' For one, we had a spiritual connection, and I feel like that's the most important thing. We both love God, we both love Jehovah. And that was key. Being able to start being around her and talking to her…we connected through music and her spirit, her kindness, her heart, reminds me a lot of my mom. We connected on so many different levels."
Houston previously came to the defense of his marriage a few months before the two wed in 2020, writing in part in an Instagram post: "To all the rumors about me, none of it is true! And that's the story. No twists, no turns, no scandals, just true love. There is nothing that can come to light, because there's no darkness in my life. You wanted the truth. I don't have anything to hide, so if you're waiting for something else, you will be waiting for ever."
As the clip began to circulate, many online expressed major skepticism and criticism over Houston's revelation. "Marques Houston said he met his wife when she was 17," one user wrote on Twitter. "I need yall to know that cradle watchin a child & waitin til they legal is still predatory & pedophilic. All that means is you was sexually attracted to them when they was still a kid. A patient pedophile is still a pedophile."
Some even went so far as to compare his actions to that of disgraced R&B singer R. Kelly:
The full Uncensored episode with Marques Houston airs Sunday at 10 p.m. ET on TV One.