I like Nick Cannon. I do. I'm one of those people who defend him when women call him goofy because I like a guy who seems like he knows how to have fun and doesn't seem to take himself too seriously. I'd take all of that over a man who thinks he's God's gift to women.
Beyoncé's Feminist Anthem "Run the World (Girls)" A Decade Later
When people have derided him as a "come-up" after his marriage to higher-profile songstress Mariah Carey, I'm the one who reminds them that Cannon is no slouch. He may not have "Mariah money," but he was a star in his own right before she came along, and he didn't need her to eat. He was a successful TV and film actor, producer and star of a couple of his own TV shows—Nick Cannon Presents: Wild 'N Out was one of the highest-rated shows in MTV history—and he leveraged his track record as a content creator and comedian to become the "chairman of TeenNick" and the development and creative consultant for the network.
See? No slouch.
But what is he thinking with his latest round of shenanigans? Cannon stirred things up on Instagram last week when he posted photos and videos in which he wore skin-lightening makeup, red hair, a beanie hat and plaid shirt. Captions for the photos indicated that Cannon was playing a white character called Connor Smallnut. The Internet went wild, accusing him of being racist for dressing in "whiteface." Then Cannon went on Good Morning America to defend his character and his "character."
G/O Media may get a commission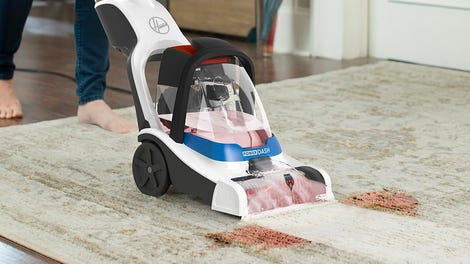 26% Off
Hoover PowerDash Pet Compact Carpet Cleaner
"I was doing a character impression," he explained. "There's a big difference between humor and hatred."
"[My] mission was to have fun," he added. "And yes, put it out there that we have issues with race in this country and in this world, but it doesn't have to be with hatred."
Let's keep it 100: The mission was to cause controversy so people would pay attention to Cannon while he's in promo mode for his latest venture, White People Party Music, a new album that features musical collaborations with Pitbull, Future and Akon. Cannon couldn't have cared less about any discourse on race. It was a dumb idea that was marketing genius, since it landed him on GMA.
But I could hardly focus on anything he said on the show—about the album, whiteface, race or anything else—because Cannon was sitting there talking about it while wearing John Travolta's Saturday Night Fever suit with his hair bleached in blond blobs so that it resembled leopard fur.
"Oh, Nick, no," I thought. "You don't have to do all this to promote an album. You're actually respected and respectable, and this obvious cry of desperation for attention does nothing for your corny, goofball image. I mean, we know who you are, and if you just made decent music, we—the audience—would give you a shot."
As if the whiteface, the suit, the god-awful hair and faux discourse on race weren't enough, then a story that was mostly overlooked in the midst of Cannon's whiteface scandal resurfaced around the Internet.
Before he posted his "new look" on Instagram, it seems, Cannon was trying to garner attention in a different and, perhaps, worse way. He'd done an interview with popular Los Angeles radio station Power 106 on March 27, where he got the bright idea to list the celebrity women he'd had sex with … March 27 is also his wife's birthday. Duh!
C'mon, Cannon. You're making yourself hard to defend—or support—when you're a married father of two who kisses and tells like a 13-year-old boy who acts like he's going through an identity crisis. One day it's bonding with the boys, showing up at a hip-hop radio station in an atypical wife beater and gold chains to bond with the guys by bragging about your sexual exploits. The next day you're in whiteface and leopard-fur hair wanting to appear highbrow about race. It reads as either desperate or an identity crisis, and neither makes me want to buy the music. 
Demetria L. Lucas is a contributing editor at The Root, a life coach and the author of A Belle in Brooklyn: The Go-to Girl for Advice on Living Your Best Single Life and the upcoming Don't Waste Your Pretty: The Go-to Guide for Making Smarter Decisions in Life & Love. Follow her on Twitter.
Like The Root on Facebook. Follow us on Twitter.