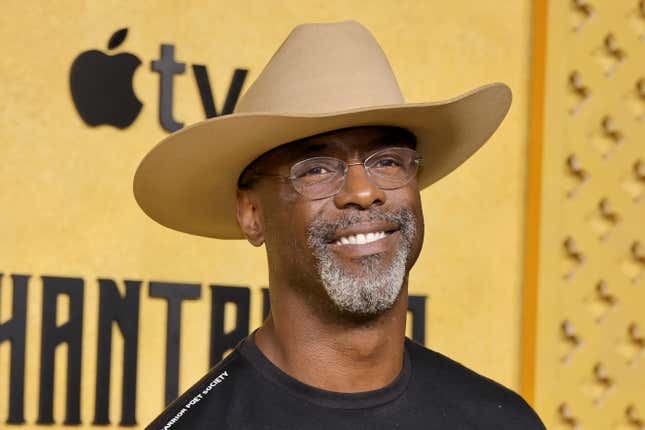 Former Grey's Anatomy star Isaiah Washington is reflecting on his upbringing in a puzzling post to social media which revealed that some of the best elementary school teachers and neighbors he had were Klu Klux Klan members.
Small Town Horror: The Story Of The Black Wall Street Massacre
In a repost to Instagram (because it was apparently removed the first time around), Washington posted pictures of three anonymous KKK women members and a baby, all adorned in the standard white robes and hoods.
"I had some of the best elementary school teachers and even some neighbors that I knew were Klan Members back in Texas while growing up," Washington began. "I knew where They stood with me and They also knew where I stood with Them. The boundaries were very, very clear and I still played with Their kids, I just couldn't drink from Their outside water hose or come inside Their house to eat and Their houses were usually much smaller than what I grew up in."
He continued, "My mother never refused to let Their kids into her house to eat a summer lunch and drink from our vintage JFK water glasses. I can't help but wonder today, if Their kids are vigorously supporting me as an actor today, simply because I showed Them love and respect as a true Texan and a true American, even when Their parents and grandparents forbid Them to reciprocate love and respect for me publicly to me back then, but I'm infamous now. I wonder…"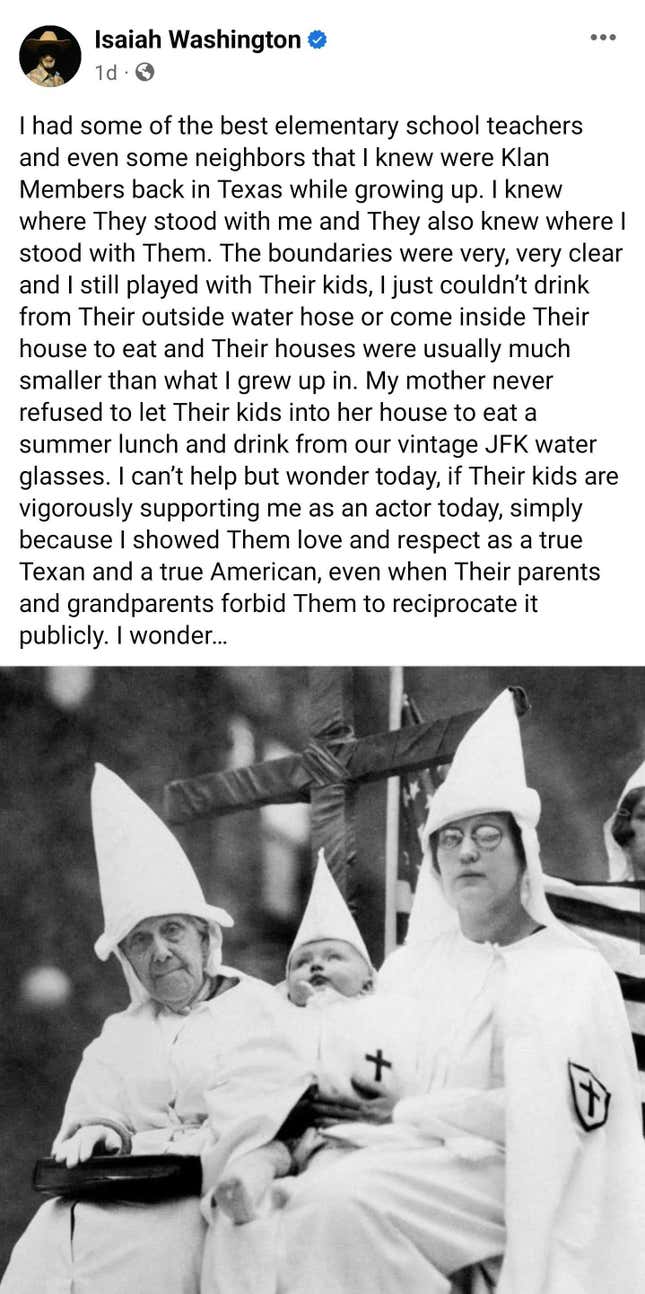 In response to his highly questionable remarks, social media had plenty to say about it:
This post is yet another in a pattern of conservative-leaning and/or questionable commentary from Washington over the last several years. It also comes two months after the veteran actor announced his retirement from Hollywood and the entertainment industry in a lengthy post to Instagram back in February.

"Those who have been Following/Witnessing my journey on social media all know that I have fought the good fight, but it seems that the haters, provocateurs and the Useful Idiots have won," he said in part. "I'm no longer interested in the back and forth regarding a 'color construct' that keeps us human beings divided nor am I interested in politics or anything vitriolic. I will be traveling this great country before it falls into Socialism and then Communism."