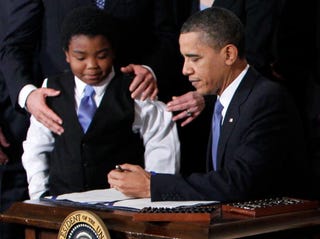 This is Part 1 of The Agenda: What Obama Has Done for You, a series of articles looking at President Barack Obama's record on issues that affect blacks.
On March 23 of this year, after months of heated conservative backlash at town halls and Tea Party rallies nationwide, President Obama signed into law HR 3590, which enacted sweeping changes to America's health care system. Not a single Senate or House Republican supported the bill.
With 46 million Americans living without health insurance, according to the Center for Economic and Policy Research, health care reform's real benefits breached divisions between classes, genders and races. Nevertheless, African Americans are still suffering disproportionately with the problems of this country's broken health care system.
In 2009, 19 percent of blacks did not have health insurance, according to the Centers for Disease Control and Prevention. The number for whites was 10.4 percent in 2007. What's more, 48 percent of African-American adults suffer from chronic diseases, compared with 39 percent of the general population.
With a series of steps set to roll out over the next five years, HR 3590, also called the Affordable Care Act, is designed to eliminate these and other disparities. And in fact, many of the law's provisions have already begun to be implemented.
Health Insurance: Expanding, Better Coverage
Simply getting health insurance will be a big step forward for millions of African Americans. "The Institute of Medicine has articulated that health insurance is a key component to reducing health disparities within minority communities," Dr. Garth Graham, deputy assistant secretary for minority health in the Office of Minority Health at the Department of Health and Human Services (HHS), told The Root.
By immediately providing small businesses with a tax credit to help cover their employees, the new law has already made health insurance more accessible for many. And come 2014, the government will also offer tax credits to individuals who need to buy their own insurance. For those who still can't afford insurance, the federal government will provide matching funds to states in order to help cover additional low-income families under Medicaid.
The government estimates that these benefits could help 32 million uninsured Americans get coverage.
A series of measures will guarantee that all people who are insured are treated fairly by their insurance companies. This means that by 2014, insurance companies will no longer be able to deny coverage to anyone with pre-existing conditions — a huge coup for the African-American community, which is plagued with chronic illness.
Insurers are already barred from denying children with pre-existing conditions. Again, while all Americans stand to gain from this particular regulation, African Americans in particular should celebrate: Black children are more prone than white children to a host of illnesses, including type 2 diabetes and asthma.
"This will make sure that children up to the age of 19 don't get denied coverage, even if people are switching between insurances," says Dr. Graham.
Preventive Services: Catching Cancer Before It Catches You
As of Sept. 23, all new health-insurance plans will be forced to cover — at no additional cost — a critical variety of preventive services, including mammograms, colonoscopies and well-baby visits. "Why is that important for African Americans?" asks Dr. Graham. "Because black men have some of the highest death rates from something like colon cancer.
As for African-American women, a free mammogram could be lifesaving. As it stands now, black women have fewer incidences of breast cancer but a higher death rate from the disease. This is in part because black women have never had the same access to mammograms that their white counterparts have had. Now, many of them will.
"This is really, really important," says Dr. Graham.
Infrastructure: More Entry Points Into the Medical System
Under the Obama administration, the National Center on Minority Health and Health Disparities has become the National Institute on Minority Health and Health Disparities. While the difference may appear minor, Dr. Graham says it's not. "It's a new national institute that deals with minority health and health disparities under the purview of the National Institutes of Health," he says. "It was a center; now it's a full-fledged institute at the NIH to help move forward research on minority communities."
Beyond the new institute, according to Dr. Graham, the stimulus plan "has invested a significant amount of money in strengthening the infrastructure of community health centers." As he explains, "This is outside of the Affordable Care Act, but it's particularly important, because over 67 percent of community health centers serve minority communities. And for many people in those communities, those health centers are their key access points to care."
For an organization to be considered a community health center, more than 50 percent of its board members must be from the community it serves, and it must provide medical services. A community health center, therefore, could be anything from a free clinic to a homeless community center.
The Affordable Care Act is also set to invest $11 billion in expanding the infrastructure of community health centers, most of which will go toward building centers in medically underserved areas, like low-income ethnic communities.
HIV/AIDS: A New National Strategy
Called "one of Obama's top priorities," the new National HIV/AIDS Strategy marks the first time in American history that a president has established an official plan for defeating AIDS in America. "As you probably know," says Dr. Graham, "this is important because HIV/AIDS has impacted the African-American community disproportionately."
That is an understatement, to be sure. Though African Americans make up just 13 percent of the population, they account for half of the new HIV infections in the U.S. today. And in 2008, AIDS was the leading cause of death among black women ages 25 to 34.
"We're also focused on giving money to the National Black Leadership Commission on AIDS," says Dr. Graham.
Anti-Obesity Campaign: Get Moving
First Lady Michelle Obama's Let's Move! initiative, designed to reduce childhood obesity by encouraging healthy eating and exercise, is of extreme importance to communities of color. In 2002, according to HHS, African-American and Mexican-American children were 7 percent and 9 percent more likely, respectively, to be overweight than their white counterparts.
Elsewhere, the CDC's Communities Putting Prevention to Work initiative has invested $600 million to combat obesity and tobacco use, both of which, once again, have a disproportionate impact on the African-American community. Though African Americans generally smoke fewer cigarettes than whites, they die of smoking-related illnesses at significantly higher rates.
According to Dr. Graham, the goal is to attack problems before they start: more prevention, less treatment. "This issue of prevention is at the forefront in terms of administration strategies," he says.
Cord Jefferson is a staff writer at The Root. Follow him on Twitter.