Happy first anniversary of first lady Michelle Obama's Let's Move! campaign!
To mark the occasion on Wednesday, Mrs. Obama visited an Atlanta elementary school to highlight its healthy eating programs and spoke at North Point Community Church in Alpharetta, Ga., encouraging parents to advocate for a healthier nation.
"We have a voice," she said to the congregations of both North Point and Ray of Hope Christian Church, one of the leading African-American churches in Atlanta. "When we come together to use that voice, we can change the way companies do business. We can change the way Congress makes laws. … And today I want to urge everyone to keep using that voice, keep standing up and demanding something better for our kids."
The first lady's rallying cry may have sounded foreboding to conservative critics (Sarah Palin, Michelle Malkin, Glenn Beck … ), who claim Let's Move! is the nanny state run amok. But despite widespread fears that the initiative would ban school bake sales, one year later, our junk food is still safe.
A few things have changed, though, including:
School nutrition: The Healthy, Hunger-Free Kids Act passed, authorizing $4.5 billion for school nutrition changes. Among other provisions, the law gives USDA the authority to set nutrition standards for all foods regularly sold in schools (think lunch lines and vending machines), and increases the number of low-income children enrolled in school meal programs.
G/O Media may get a commission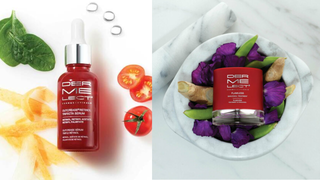 Save $19
Retinol Renewal Kit
Fresh food access: Wal-Mart partnered with Let's Move! for a five-year initiative in which the grocery giant pledged to offer more nutritious products, as well as lower the cost of fruits, vegetables and other healthy foods for its 140 million weekly customers.
Physical activity (to be continued …): The first lady has acknowledged that not all kids have safe places to run and play. According to her office, the campaign is working with mayors and community groups to leverage funds for more parks, playgrounds and community centers.
Just 19 more years to go toward Michelle Obama's lofty goal of ending childhood obesity in a generation — or, more specifically, returning America to a childhood-obesity rate of 5 percent by 2030. Currently about 31 percent of American children are overweight, with 17 percent identified as obese. Black children are 30 percent as likely to be overweight as their white counterparts.
Obviously it'll take more than the first lady's platform to reach the 2030 goal, as parents make their own choices. But with no plans to "get off our back," as Sarah Palin put it, she's determined to do as much as she can to help us get there.
Cynthia Gordy is the Washington reporter for The Root.