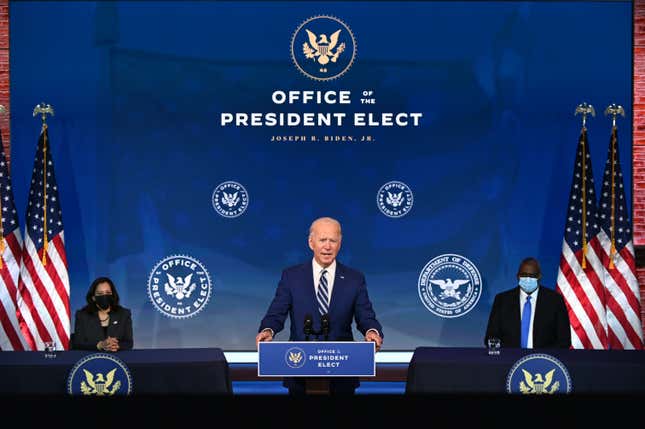 Now, I know there are some from communities that look like mine and ones I grew up in, who will answer the question in this headline by saying, "Not a damn thing." Likewise, some who voted for Democrats in the last election or even previous elections will say that the only thing we've gotten is a federal holiday, remembering how President Biden, in 2021, established the national celebration of Juneteenth .
The Biden And Trump Classified Documents Scandal Explained
I get it. It's clever. Of course, it's not true. Sadly, it's been repeated by some who have our best interest and many who do not. In fact, at best, it is a poorly disguised parroting of right wing talking points written by people who are only pretending to care about the Black community, while doing everything they can to undermine every step we take toward opportunity and equality. Not a joke
But, folks, these knee-jerk replies, no matter how often and loud they're repeated, are the biggest load of bojangle we've seen in quite a while and we need to quash it right now…full stop.
Black people are frustrated, but lets look at the facts:
It's not that I don't understand folks are frustrated. After all, I am a 38-year-old Black man from rural South Carolina and given the fact we have suffered generations of systemic subjugation, exploitation, and violence, I don't just understand frustration—I expect it. After all, I feel it too.
But this nonsense isn't a natural, nor productive expression of a people's frustration. It's misinformation, disinformation and straight up lies.
So, instead of relying on the rhetoric, let's look at the reality that, in four years, you can't undo everything that's been done over 400. But you can do some good. We've passed really good, transformational legislation. So now we must focus on education and implementation.
And what kind of good am I talking about? Well, let's start with electing the first Black woman to serve as Vice-President and building the most diverse administrations in our history, including our nation's first Black Press Secretary Karine Jean-Pierre and cabinet secretaries like Marcia Fudge, Lloyd Austin, Linda Thomas-Greenfield, Shalanda Young and Michael Regan.
We can talk about a Biden/Harris agenda that invested $1.9 trillion to fight back the deadliest global pandemic in more than a century. We know how he expanded SNAP benefits and helped create millions of jobs, cutting unemployment by almost half. We know about lowering healthcare costs for more than 13 million Americans, helping over eight million families save their homes and investing $931 billion in payments directly to us…the American people.
Some special things are happening in the Black community:
But there's much, much more because, while all of America has benefitted under the Biden/Harris Administration, something special has happened in the Black community – and, too often, that gets overlooked.
Need proof? How about the fact that, while President Biden helped cut child poverty across America, he cut child poverty in the Black community by more than half?
We know about the surge in small business growth this administration has championed from day one. But did you know, in 2021 alone, more Hispanic entrepreneurs started small businesses than they had in more than a decade and Black entrepreneurship topped its highest rate in 26 years?
Let's talk about President Biden's environmental initiative that ensures at least 40% of its benefits flow to marginalized communities. Let's talk about this President implementing the most significant climate change provisions in a generation, standing up for the more than half of black America who, living in the South, stand in the path of more frequent and stronger storms which leave black communities in ruins.
The White House Invested Billions but where?
Let's talk about how, in just one year, this administration invested over $185 billion in more than 6,900 projects improving thousands of communities and creating countless new jobs in every state. Let's talk about $15 billion committed to replacing lead water lines in communities like ours.
Let's talk about the President's investment in Historically Black Colleges and Universities (HBCUs) and how he erased the capital debt to the tune of nearly $6 billion. Let's talk about new grants to help these centers of equality also serve as our nation's centers of innovation. Let's talk about postal reform, passing the most sweeping gun safety law in decades, banning chokeholds and "no knock" warrants and turning back the tide of mass incarceration while leading the way on marijuana reform.
Rise in work for Black people:
Did you know Black unemployment is at a record low with employment growth for Black men outpacing both our white and Asian counterparts? Did you know President Biden helped secure roughly $100 billion in federal contracts given to small disadvantaged and Black-owned businesses? Did you know that, of the 105 federal judges President Biden has confirmed, more than two-thirds are people of color and more than 75% are women including the first Black woman ever to sit on the US Supreme Court?
He called for $425 billion to make childcare more affordable and improve long-term care for senior citizens. He launched a historic new effort to protect our families from gun violence. He expanded access to quality healthcare for our Black veterans through the PACT Act and he invested billions of dollars in communities like ours to rehab old homes, build new grocery stores and root out racist disparities like redlining across the board.
Let's Talk about student debt relief 
He provided student debt relief to roughly 43 million Americans, capped prescription drug costs, stood up for our right to vote, reproductive rights and signed the Emmett Till Antilynching Act making lyinching a federal hate crime for the first time in American history. Does that sound like nothing to you? Does that sound like President Biden taking Black voters for granted?
Now, does that mean the struggles Black folks face in America just disappeared? Of course not. Are we still justified in our frustration at politicians who care more about Disney than Tyre Nichols? Of course we are.
But it also means that, while this isn't an exhaustive list by any measure, it's more than enough to know the difference between a leader who truly cares about serving the Black community and one who's just pretending.
This progress is a direct result of our advocacy and we need more messengers for the message. So let's not let disquiet become division and misinformation pull our attention. Let's get to work, because there's plenty of work to be done.
The reality is, from the smallest injury to the greatest injustice, the issues we face didn't happen overnight…and they won't be solved that way either. But President Biden, Senate and House Democrats took their jobs seriously, passing one of the most monumental legislative agendas I can remember. That moment gave our mission momentum and, if we stop now, we could lose it.
So now the questions bears repeating. What has our vote gotten us? It created an opportunity unlike no other, the opportunity to help America become the nation we've always dreamed of. It's given us the chance to build this "more perfect union" and that's far more than my parents or yours could have ever dreamed of.
Antjuan Seawright is a Democratic political strategist, CBS political contributor and CEO of Blueprint Strategy LLC