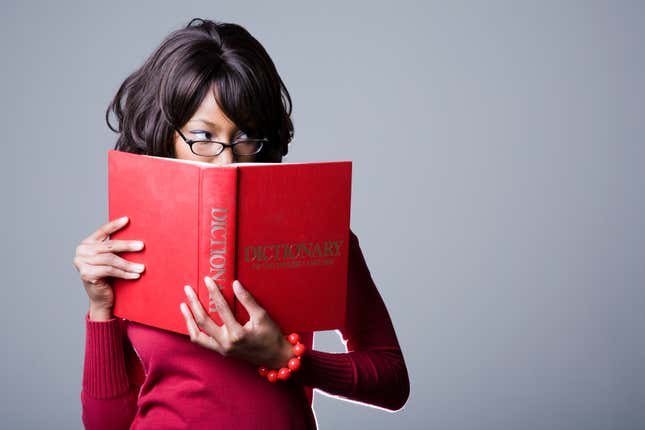 Your days of explaining what words like "bussin" and "grill" mean to white people may be soon be coming to an end. Instead, you can tell them to look it up in the Oxford Dictionary of African American English.

Dave Chappelle Tackled on Stage in Hollywood
You heard that right. The new dictionary, which is a partnership between the Oxford English Dictionary and Harvard University's Hutchins Center for African and African American Research, will be made up entirely of words created by or reinvented by Black folks.
And you already know there are plenty to choose from. Researchers are pulling words from classic works of Black literature, slave narratives, song lyrics and even the latest rants on Black Twitter. They plan to publish the first 1000 definitions in March 2025. But say people can continue to send in suggestions for new entries online long after the first edition goes out.
Here's a sample of a few words you can expect to find:
grill (noun): A removable or permanent dental overlay, typically made of silver, gold or another metal and often inset with gemstones, which is worn as jewelry.
kitchen (n.): The hair at the nape of the neck, which is typically shorter, kinkier and considered more difficult to style.
cakewalk (n.): 1. A contest in which Black people would perform a stylized walk in pairs, typically judged by a plantation owner. The winner would receive some type of cake. 2. Something that is considered easily done, as in This job is a cakewalk.
Henry Louis Gates, Jr., director of the Hutchins Center at Harvard, will serve as editor-in-chief of the the three-year project. In a statement, he says the final product will acknowledge the contributions African Americans have made to shaping the English language we all speak.
"Every speaker of American English borrows heavily from words invented by African Americans, whether they know it or not. Words with African origins such as ' 'goober', 'gumbo' and 'okra' survived the Middle Passage along with our African ancestors. And words that we take for granted today, such as 'cool' and 'crib,' 'hokum' and 'diss,' 'hip' and 'hep,' 'bad,' meaning 'good,' and 'dig,' meaning 'to understand'—these are just a tiny fraction of the words that have come into American English from African American speakers, neologisms that emerged out of the Black Experience in this country, over the last few hundred years," he said.
According to Professor Gates, words from the new African American dictionary will also be added to the Oxford English Dictionary.