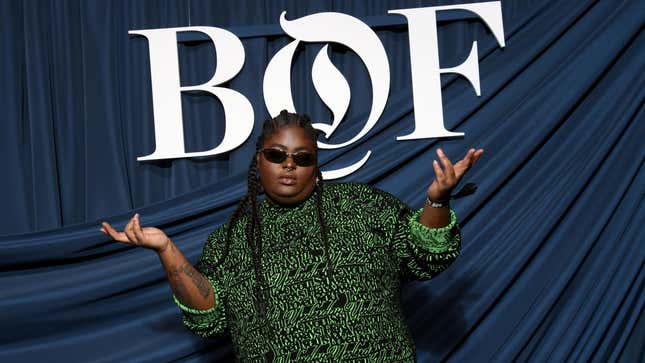 No, she's not your average girl in an intimate apparel campaign —and thank God, since last time I checked, most of us—of all sizes and shapes—buy and wear underwear. But Montgomery, Ala.-born, Nigerian-American rapper-on-the-rise Chika—who first rose to fame last year with a "Jesus Walks"-backed freestyle calling out Kanye's MAGA metamorphosis—has already been proven a role model, modeling underwear or not.
But as a black, female, first-gen, plus-sized, dark-skinned, queer rapper, the musician, who appropriately sports a "self made" tattoo on her hand, also checks several until recently-underrepresented boxes, a fact Calvin Klein no doubt had in mind when they cast her alongside Naomi Campbell and Indya Moore in its spring "My Truth" underwear campaign.
"There were so many people that told me I wouldn't be able to do certain shoots and to be comfortable with myself enough to do certain things," Chika, born Jane Chika Oranika, told the legacy American brand. "That's not the point of me existing."
G/O Media may get a commission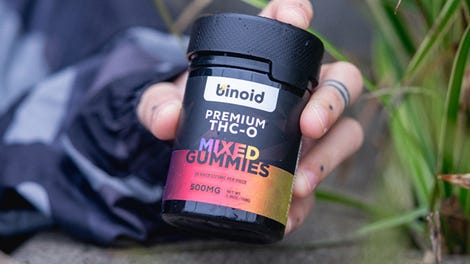 25% Off + Free Shipping
Binoid THC-O Gummies
But apparently, despite an increasingly body-positive fashion industry which has included Rihanna's much-lauded, size-inclusive lingerie campaigns and runway show for Savage x Fenty, Ashley Graham on the cover of Sports Illustrated's swimsuit issue and the unstoppable (and unfiltered) rise of Lizzo, everyone in the world ain't ready to accept Chika's existence—and that Calvins come in extended sizes, too. As obviously size-phobic, Candace Owens-quoting, and so-called conservative black British "social influencer" (we'd say aspiring, at best), Dominique Samuels tweeted:
Why do we need the morbidly obese to speak the truth in their Calvins? Out of all the black plus-size models that exist, you just had to pick the one that looks 5 minutes from diabetes to promote unhealthy living, Calvin Klein? You should be ashamed. 🤦🏽‍♀️.
Forgive us if we don't think Chika's health was top of mind for Samuels, who then proceeded to double- and triple-down on the insult as recently as this morning, tweeting:
But "muh fatphobia" is the problem. Somehow I'm the problem?! No, you greedy idiots just don't like the truth and it's ruining it for everybody else!
Chika, as expected, executed a lesson in the etiquette of evisceration, reposting Samuels tweet—and her retort—on Instagram with the caption: "we still doing this? lololol."
In the comments, the rapper clarified:
anyways, i didn't post this cuz i'm upset. i just wanted to say that i have a great life and God smiles on me cuz ugly bitches like this exist. it's only fair. keep going. your bad karma is paying my bills.
Bad karma aside (because this is hurting you how, Dominique? Avert your eyes, like we do when we see your ugly energy coming our way), Chika has definite thoughts on what inclusion really is—and what it isn't—as she thoughtfully shared in a video interview with Business of Fashion:
"Inclusivity is making an effort to make sure that every type of person is represented. It's being able to see a reflection of oneself...I think if we want to make the world more inclusive, we have to stop thinking about it, because if we just label things inclusive and say that they're inclusive because it has other people in it, then it implies that they are 'the other.' In order to be inclusive, you have to have an equal playing field...

We have the responsibility and also the privilege to kind of be, like, the pacemakers in inclusivity, to me."
In other words, be the change you want to see in the world. Minding your business remains free, but change—however long overdue—scares the shit out of some folks, doesn't it? As Chika said in her freestyle:
"It's not a cross you had to take up; I just hope to God that one day you wake up."