Eleven years ago this month, I made the decision to get my first tattoo below my elbow—a piece covering my entire forearm that could never be hidden without clothing.
I wanted the tattoo to be meaningful, so it only made sense to dedicate it to one of my favorite things ever: hip-hop. The piece is my ode to the four elements of hip-hop—the word "ESSENCE" written in graffiti with visual elements representing the MC, the DJ, graffiti and the B-boy.
The four elements were originally outlined by the (now outcast) Afrika Bambaataa and the Zulu Nation during the genre's nascent days. Only old heads are likely to mention the elements these days—most young rap fans have never even heard of them; break dancing and graffiti are only elements of your dusty Uncle Jerome's misspent teenage years. Even the DJ is bordering on obsolete in an era where your IT supervisor-by-day can slay these niggas in a dancehall with his iPhone and a $2.99 app.
The most enduring of the four elements—that which will always separate the wheat from the chaff—is the MC. Rhymes and wordplay are what initially distinguished rap from its roots in funk and R&B music. Whatever shit that kids born in 2000 and later are listening to now has me thinking that, for the first time ever in the genre's 40-plus-year history, some type of distinction really is necessary, because that shit simply shouldn't be categorized as "hip-hop."
Folks use "mumble rap" as a pejorative to describe artists including Lil Yachty, 21 Savage and 6ix9ine. But I'm a bit more skeptical about the use of "rap" to describe what's essentially talking with some degree of rhythm through a vocoder over a trap beat that rides.
G/O Media may get a commission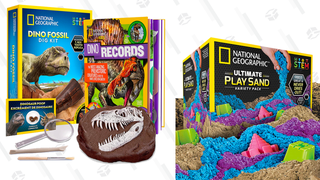 Up to 33% off
National Geographic Science and Activity Kits
A couple years ago, Panama Jackson sent me this Lil Yachty track, saying that it was probably the most hilariously awful thing he'd ever heard. Indeed, the track is the musical equivalent of that moment when your dentist is putting in fillings and drills just past the Novocain. There's no trace of the art of emceeing—this is something else.
I fully acknowledge that this reads like the old bastard that I am, and "This ain't real hip-hop" conversations have been around for a grip. But I think there has to be some objectivity when we talk about what constitutes a certain musical genre. You can't call Brazilian funk "polka" just because you feel like it. Words still mean things.
But even rappers whose lyrical content couldn't fill a Dixie cup can be decent technical rappers (see: the Game). And I'd argue that you don't even need to understand what a rapper is talking about for them to be good (see: Camp Lo, Raekwon and Ghostface Killah in the 1990s—and you're a damn liar if you say you understood all that shit). But cats like Lil Pump and Lil Xan make the No Limit rappers—their musical equivalent two decades ago—sound like mid-'90s New York hip-hop.
Thing is, we're four-plus decades into hip-hop, and the world continues to conflate all of it, which is somewhat unique among genres: Rock, which has certainly been around longer than hip-hop, is broken down into subgenres and subgenres of subgenres. No one likens Slipknot to Led Zeppelin, but they're both rock. Back when record stores were still a thing, you could even find those little paper tabs separating country music by subgenre.
There's also a wider-than-ever quality gap in chart-topping hip-hop. As Justin Hunte explained, it was hard to be a lyricist and rock the chart a decade ago. The fact that Kendrick Lamar, J. Cole and Drake are all chart-topping lyricists represents the evolution of the genre while underlining the differences between them and these frosted-dreaded niggas who apparently can't see five years into the future but somehow still manage to rack up 100 million YouTube views.
To be clear, I don't mind the fact that this type of music exists. I'm not a stubborn purist—I realize it has its place, and no one wants to dance to Yasiin Bey in the strip club. It's just not hip-hop, and that's OK. Just call it something else.