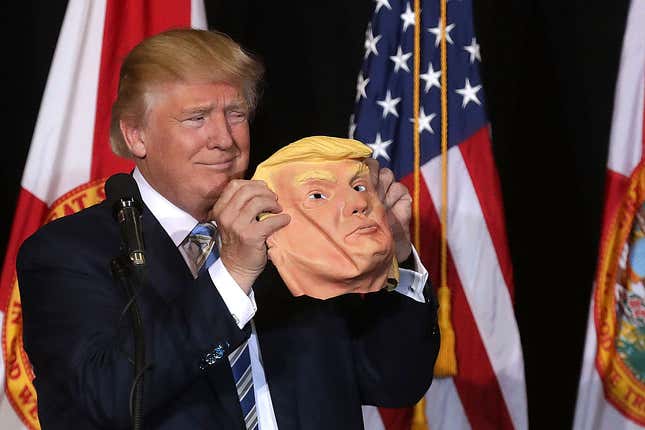 If you ever wanted to look like the president—or a weathered, sun-soaked, wrinkled Trader Joe's orange—and run through the neighborhood scaring the shit out of children and people of color, then now is your chance, as the president's favorite concealer has been revealed to be Russian prostitute urine!.

Thanks to hardworking journalists at the Washington Post and several undocumented immigrants who once worked for Trump's golf club in Bedminster, N.J., the origin of Trump's face concealer is no longer concealed. According to the former employees, Trump uses something called lactating pig vomit by the Swiss brand Bronx Colors. The shade is reportedly so potent, it used to stain his golf shirts and he would be forced to replace them because, well, have you ever tried to wash pig vomit off your golf shirts?

Bronx Colors was excited to learn that their concealer was the face makeup of tyrants and now knows who's been buying boxes and boxes of Shitty Zoo Dirt No. 7.
From The Week:
The company has revived its dormant Twitter account and updated its website with a special promotion: for a limited time, buy any item and receive the Boosting Hydrating Concealer in BHC06, "Donald Trump's favorite Bronx Colors product and color," for free. The concealer is already a steal at €6.50 a tube, and offers "beautiful, natural-looking coverage you can count on." Yes, for just €6.50, you too can have that fluorescent orange glow that no tanning bed can legally provide.