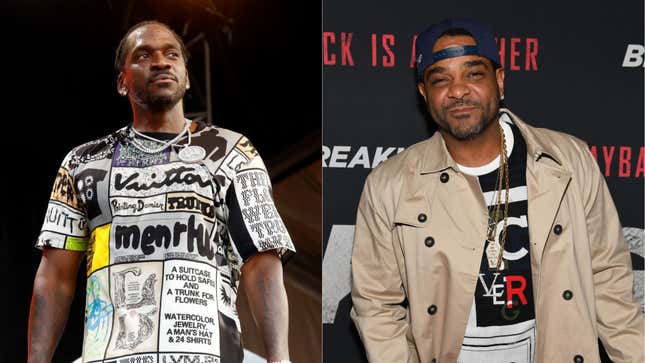 I love a good healthy rap beef. When two artists don't like each other for whatever reason and share their transgressions on a track, it's always good for hip-hop (as long as it stays on wax).
This Mother's Day We Revisit 2Pac's "Dear Mama" on UR FAV TRAK
So I'm glad that we potentially have another good feud between two veteran MCs like Pusha T and Jim Jones.
On Tuesday, as the most popular celebrities in the world enjoyed Pharrell's first Louis Vuitton menswear fashion show in Paris, hip-hop fans were more focused on the music playing as models walked the runway.
As Pusha T and his brother, No Malice, walked the runway, sporting some of Pharrell's newest clothing, a new track from the duo was playing and it sounded like it was aimed at a certain Harlem rapper.
On the song, King Push can be heard rapping, "Beware of my name, that there's delegate/ You know I know where you're delicate/ Crush you to pieces, I'll hum a breath of it/ I will close your heaven for the hell of it/ You think it'd be valor amongst veterans/ I'm watching your fame escape relevance/ We all in a room but here's the elephant/ You chasing a feature out of your element."
He continues, "And those lab diamonds under inspection/ The question marks block your blessings/ It's no tombstones in the desert/ I know by now you get the message."
I'm not into subliminal shots, I prefer when rappers make it clear who they are talking about on a track. But who else could it be?
Drake has been mostly silent about Push since their 2017 beef and Jim Jones is the latest rapper to run his mouth about the Virginia artist.
It seems that Jones felt the same way, seemingly responding in an Instagram post with the caption, "Let me know if they serious cause my name is my name #Capo."
This is in reference to Pusha's 2013 studio album, My Name is My Name (which is a dope listen).
When did the beef start?
The feud between the two began in April, when Jones was asked about Pusha being put at 29 on Billboard's Top 50 Greatest Rapper of All Time list.
While on the Rap Caviar podcast, Jones said, "Pusha T don't hold no weight out here. He not pushing no shit out here," and was very adamant that there are a plethora of rappers he would put ahead of Pusha on his list, including Big Sean.
He later continued his disrespect of Pusha T on the Breakfast Club, saying hip-hop fans cannot name five records from the Virginia rapper.
I can: "Nosetalgia," "Dreamin' of the Past," "Come Back Baby," "Drug Dealers Anonymous," and "Untouchable." That's not even including the work he's done as a member of the Clipse (Lord Willin', Hell Hath No Fury).
Whose side am I taking?
Pusha T.
The thought that there are 50 rappers better than Pusha T in the history of hip-hop is absurd.
While I don't think that Pusha's discography before 2013 would put him on the list, the music he's put out afterward has vaulted him up higher than I would've ever thought possible.
He's gained his second wind as an MC, putting out some of his most inspiring, ruthless, and intricate work as a solo artist since 2013.
Excluding Fear of God II: Let Us Pray, Pusha's four studio albums (My Name Is My Name, King Push, DAYTONA and It's Almost Dry) have been exceptional. He's rapped with an intricate and precise style that has not been rivaled by many MCs in recent years.
He's been extremely consistent and has not put out one subpar verse in the last decade.
Some may point to his content, saying that he only raps about cocaine. But that's a lazy take and shows that you haven't been paying attention to his music.
Pusha T is a top 50 rapper. End of story.