Probably one of the worst parts about stereotypes is when the person being stereotyped starts believing the hype. 
During a candid roundtable discussion hosted by the Hollywood Reporter about what the acting profession is like for women in Hollywood, Viola Davis admitted that she cringed when she first saw herself on TV playing Annalise Keating in How to Get Away With Murder.  
Keating is a "sexualized" woman, Davis explained, and so she had a hard time reconciling how an older, chocolate-complexioned woman who played "mommified' roles her entire career was going to sell, well, sex. 
"There was absolutely no precedent for it. I had never seen a 49-year-old, dark-skinned woman who is not a size 2 be a sexualized role in TV or film," Davis said.
Davis described how she shuddered when she first saw herself in the pilot episode and began doubting whether people were going to believe that a woman who looked like her, could, in fact, embody Keating. 
G/O Media may get a commission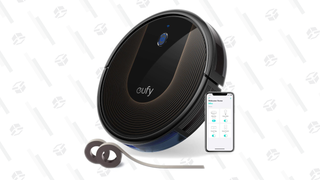 48% Off
Eufy BoostIQ RoboVac
"When I saw myself for the first time in the pilot episode, I was mortified. I saw the fake eyelashes and, 'Are you kidding me? Who is going to believe this?' " 
But then Davis said she had an "aha moment," and she told herself to snap out of it, stop typecasting herself and believe that, yes, she could be lusted after, smart and thrown up against the wall during a fiery sex scene. 
"And then I thought, 'OK, this is your moment to not typecast yourself, to play a woman who is sexualized and do your investigative work to find out who this woman is and put a real woman on TV who's smack-dab in the midst of this pop fiction,'" Davis said. 
Taraji P. Henson was the other African-American woman at the table—the other actresses present were Lizzy Caplan, Maggie Gyllenhaal, Jessica Lange and Ruth Wilson. Henson opened up about how the first rejection she ever received about her acting occurred in high school. The moment nearly caused her to give up acting altogether.
"I auditioned for Duke Ellington School of the Arts in Washington, D.C., and didn't get accepted. At that age, their word was law. It meant I couldn't act! So I went to college to be an electrical engineer," Henson explained.
Fortunately, Henson got back on track at Howard University by enrolling in theater courses. It paid off. Today she can't get her friends to stop talking about her hit role as Cookie in Fox's Empire.
Henson also spoke about the responsibility she feels toward her characters, regardless of their situation, and that it's often the more controversial, complex personalities that she's drawn to as an actress. 
"Playing a pregnant whore in Hustle & Flow. No one wanted to touch that movie. But when a character scares me like that, I tell myself, 'Taraji, it's your job to make the people empathize with her,' " Henson said. "I wanted people to reach through the screen and hug her. Go find that ho on the corner and save her!"
For more of black Twitter, check out The Chatterati on The Root.
Like The Root on Facebook. Follow us on Twitter.