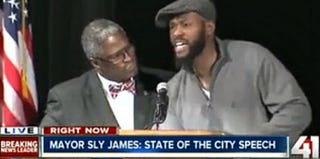 We don't think this is what they mean when they say all citizens should have a voice in politics.
This morning, as Kansas City, Mo., Mayor Sly James delivered his State of the City address, an unidentified man stormed the stage, took over the podium and managed to say, "This man had just gotten through talking about what the f—k he ain't g—damn did!" before being wrestled to the ground by two bodyguards.
The mayor's response as he continued with his speech: "It's unfortunate that we have people who feel that somehow we have left them behind. I don't blame him for whatever feelings he wanted to express; I do have a small problem with the method." Smooth.
Assuming everyone's OK, the footage — and the stunned reaction of the anchor covering the event on live TV — is somewhat hilarious. Watch it (NSFW) here:
Read more at Mediaite.
Like The Root on Facebook. Follow us on Twitter.