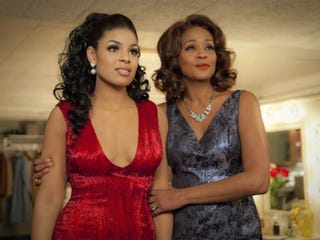 A trailer for the upcoming film Sparkle was released today. The movie is of course getting extra attention because it represents Whitney Houston's last on-screen appearance. In it, Sparkle (Jordin Sparks) and her sisters try to make a go of it as an all-girl singing group, following in the musical footsteps of their mother.
"Whitney loved this movie very much. This was her idea," producer Deborah Martin Chase told the Associated Press. "The great thing for me as her friend and her producing partner is that this movie will be an essential part of her legacy … It's the best performance of her life; she knew it at the time. She looked beautiful on camera, and she enjoyed every minute making the movie."
Watch the trailer here, courtesy of Yahoo Movies.
Read more at the Washington Post.
Like The Root on Facebook. Follow us on Twitter.