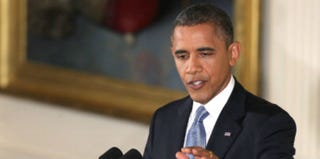 On Monday, while Israel and Gaza's Hamas rulers traded fire and unsuccessful cease-fire proposals in their border conflict, a total of 38 Palestinians were killed, bringing the death toll since the start of Israel's offensive to 109, including 56 civilians. Meanwhile, three Israeli civilians have been killed, and dozens have been wounded.
On Sunday, President Obama said his administration is "fully supportive of Israel's right to defend itself," while emphasizing that it would be "preferable" for Israel to meet its goals "without ramping up military activity in Gaza." Unfortunately for everyone in the region — and saddest for the 225 children who have been killed or wounded — that clearly hasn't panned out so far. Listen to his remarks here:
Read more at Slate.
Like The Root on Facebook. Follow us on Twitter.