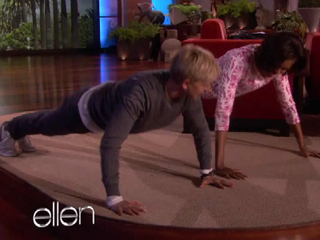 The first lady is touring Southern California this week in celebration of the second anniversary of her "Let's Move" campaign against childhood obesity. But she's doing more than just talking about the importance of staying active.
When Ellen DeGeneres suggested a friendly push-up contest, she took the challenge, right there on the set of the show. Check it out here (and seriously, did Ellen go easy on her?).
video platformvideo managementvideo solutionsvideo player
Just for fun: Who would you like to see the president go up against? If the theme is White House residents versus talk-show hosts, we can't say we'd turn down the chance to watch an Obama-Limbaugh matchup.
Read more at the Huffington Post.