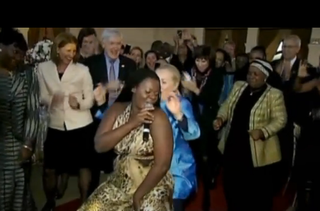 We can't explain exactly why video of politicians dancing is guaranteed to be endearing and entertaining, but it's a fact of life. Check out this clip of Secretary of State Hillary Clinton on her recent visit to South Africa.
From the Guardian:
Attending a dinner hosted by South African foreign minister Maite Nkoana-Mashabane in Johannesburg, US secretary of state Hillary Clinton takes to the floor to dance. Clinton is on a seven-nation tour of Africa, partly to promote the United States as an alternative to China's growing economic and political influence in the region.
Read more at the Guardian.